After Hurricane Maria hit, our plans to visit Puerto Rico were put on hold. Now, more than a year after the direct hit that decimated homes, business, and the antiquated power grid structure on the island, my husband and I heard that visiting and spending our tourism dollars would help tremendously, so we began our plan. Searching the internet to figure out what hotels and businesses were open, what smaller islands were still above water, and what roads were open and/or passable, proved difficult so we rolled the dice and took a chance…we hit the jackpot!
I didn't know it would turn out that way when I packed my bags filled with battery chargers, water filtration devices, a Swiss Army knife, a first aid kid, campfire starters, and a flashlight—everything you would need to survive on a backpacking trip. This is what I would need according to the current information provided about the status of things in Puerto Rico. Most of the higher-end and larger hotels outside of San Juan proper were not yet reopened and while their websites indicated an October 2018 re-opening, there was no way to guarantee this. Our travel dates were set for late October; the end of hurricane season. Airbnb and VRBO options, however, were plentiful and we found "Casita Azul" in Luquillo where we lived in relative luxury for a week in a 2 bedroom, 2 bathroom beachfront condo with air conditioning in the bedrooms.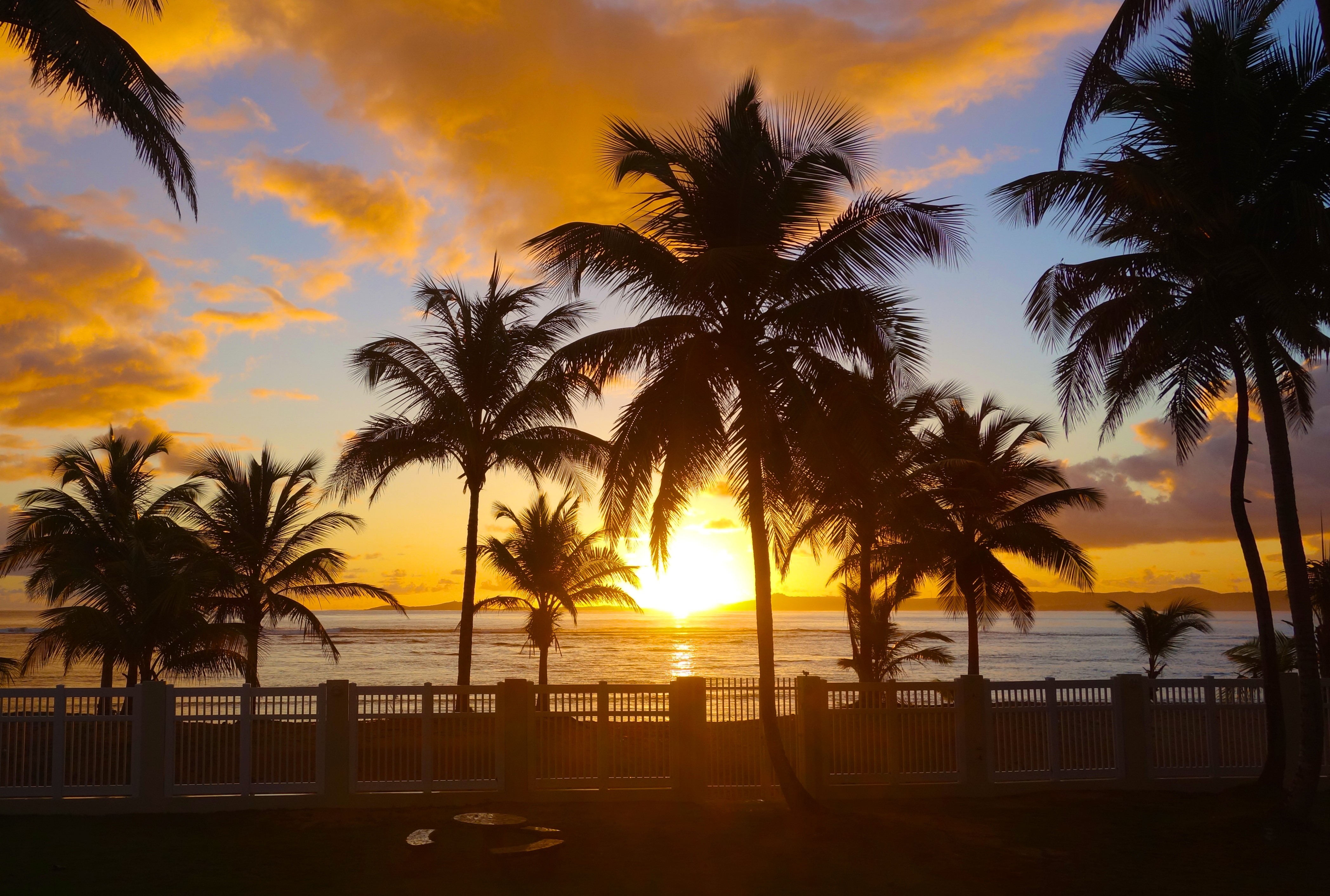 Photo by Pamela Powell
---
The words "relative luxury" are key in describing tourism in Puerto Rico. Initially, flying over the island, the blue squares and rectangles speckled the landscape, looking from above that most people had pools. Unfortunately, as we descended and looked more closely, these were blue tarps over rooftops indicating that homes were still not repaired from the damage they sustained from Maria.
Surprisingly, as we rented our sturdy Jeep predicting mud-bound roadways requiring such a vehicle, we pulled out onto a beautifully paved 4-lane expressway, palm trees nearby with rich, lush mountains off in the distance. Luquillo was our destination and exiting the highway, we found boarded up buildings interspersed with seemingly unharmed condominiums and high rise towers. The town square felt as if you were in Spain, sprinkled with quaint, new shops nestled in between boarded up and forgotten stores. Yes, the devastation was still evident, physically, but Puerto Rico opened up its arms to us, welcoming and thanking us for coming.
While our huge condo was more than adequate with a large yard, a patio with seating for 8 and a view to die for, it wasn't the Waldorf Astoria. Everything was relative so we focused on the rich treasures that Puerto Rico had to offer: the beach, ocean, mountains, food, culture and the people. This is what vacation is all about and Puerto Rico delivered it ten-fold.
Our glorious beach offered spectacular sunrises, snorkeling, body surfacing, long walks along moonlit paths while the myriad constellations twinkled overhead. The brown sugar sand felt like cornstarch feel beneath my feet, soothing my very soul. And the sound of the waves gently crashing on the shore as the tide ebbed and flowed, connected you to the tranquility of the island.
The restaurants, including the famed Kioskos or Kiosks were all open and offered all the local favorites, seafood cooked to your specifications, and Peruvian delicacies. Additionally, I learned not to judge a book by its cover and relied on my nose to find some of the best "hole in the wall" restaurants imaginable. The Brass Cactus, a sports pub, served up classic mojitos with mouthwatering fish tacos. This local favorite was always busy, and, as the staff remembered us upon our second visit, we felt like locals as well. The beachfront bar and eatery Board Runners seemed to be the only other restaurant open, although a web search and Yelp inquiry found others, this information was not reliable. This error in information on the internet was the rule rather than the exception.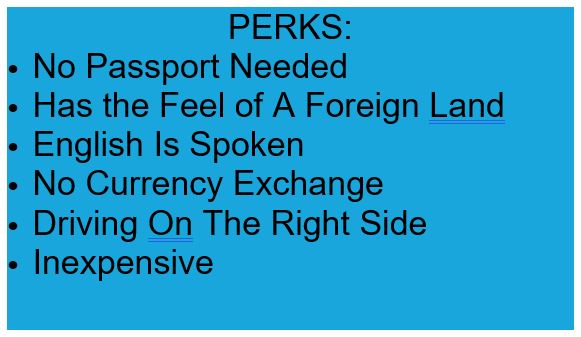 Talking with the locals and business owners, tourism is typically slow in October, but this was even worse than usual. Most owners are banking on an increase this coming November through May to keep them afloat as another weak tourist season will certainly close the doors on many of the "mom and pop" shops and put the final nail in the coffin of larger entities who are still up in the air about reopening.
An overnight excursion to an island was next and thanks to our informative waiter at the Kioskos, we chose Culebra, but finding the correct ferry was an adventure in and of itself! Fajardo had been the main port, but now, due to Maria, this town with downed wires, coiled along the roadside or just hanging haphazardly, was no longer a hub for anything. Cieba, a few miles further away, harbored the fast ferry providing a scenically smooth 45-minute excursion across the ocean. Upon docking, we wandered into a sleepy little town that, again, felt like a foreign country. We made the mistake of not allowing a salesperson to take us to their golf cart rental facility, but thanks to one young man from Carlos Jeep Rental who saw us struggling, we were picked up and on our way in a sporty red golf cart to tour the island.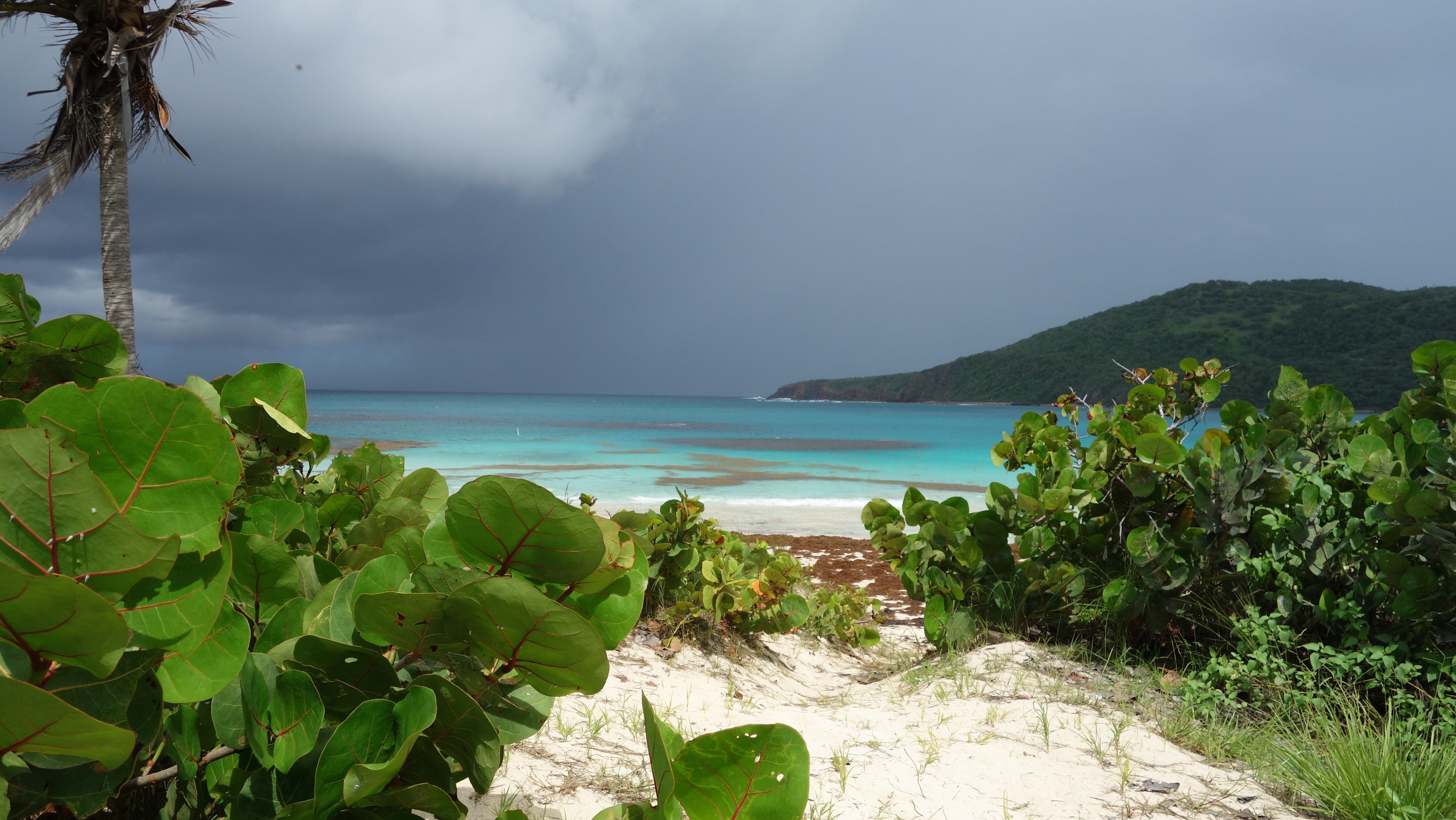 Photo by Pamela Powell
---
Flamingo Beach was our first stop and just in time for a torrential downpour. Finding shelter to watch the storm arrive as free roaming chickens also sought refuge from the rain beneath the Seagrape leaves, the skies just as quickly cleared and the beach was ours. Miles of sandy beach lined with the most luxuriously soft Sargassum Seaweed gave a spring to my every step and crystal clear blue water beckoned me in to view the sea life teeming below. As another storm rolled in, we headed to Tamarindo Beach avoiding the dark clouds. Diving into the crystal clear water, we discovered a spectacular array of fish, many recognizable from their short lives in my son's fish tank at home.

Finding lodging for the night, thanks to inaccuracies of the internet, required a few miles on the cart, but we happened upon a glorious hotel called Club Seabourne. Remember, the theme is "relative luxury" for this trip. The grounds were amazing with hammocks, a pool and a bar nestled into the hillside overlooking the ocean far below. There were no power issues at all and our room had AC, but someone needs to give a few drywalling and mudding lessons. The staff was sparse, but wonderfully friendly and laid back, happy to accommodate our every request.

The next day, during our made-to-order breakfast, we learned about Captain Dave's Culebra Blue Water Charters for a full-day snorkeling trip to Culebrita, a smaller nearby island with private-feeling beaches brimming with exotic tropical fish and sea turtles! Following a gourmet sashimi tuna lunch courtesy of Capt. Dave, a hike up the hillside to the oldest lighthouse in the Caribbean was in order providing dramatic panoramic views as goats zipped along the trails. Culebra is a must-see and while the island suffered damage from the hurricane, the continued low tourism seems most damaging to the businesses and the future outlook for residents.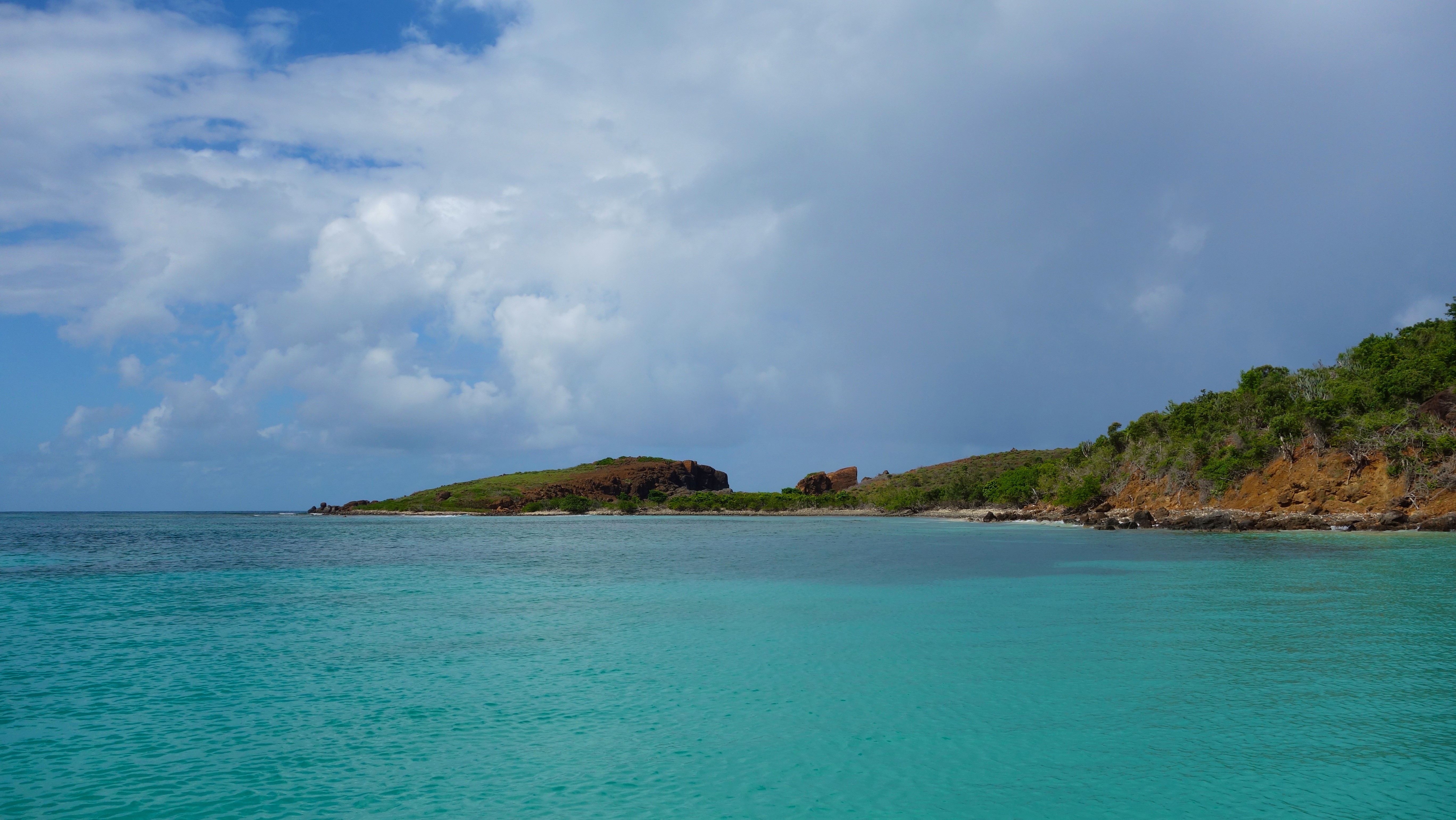 Photo by Pamela Powell
---
Back on the main island of Puerto Rico, thanks to navigational issues, we found Sal y Pimiente (Salt and Pepper), an upscale dining experience overlooking a yacht club. The seafood was mouthwateringly delicious, completing our day's adventure.

The trip would not be complete without venturing to El Yunque National Park high in the mountains. The access routes and trails in the jungle were severely damaged, but the road was now open to the lighthouse and a couple of trails and waterfalls. The park ranger shared that all of the park should be open in December or January as funds have been replenished for the coming year. The trails we ventured down and up ranged from easy to "let's turn around." The flora and fauna of the jungle was unique with brightly colored birds and huge flowers with intoxicating aromas. We will look forward to coming back when we can see more of this natural wonder.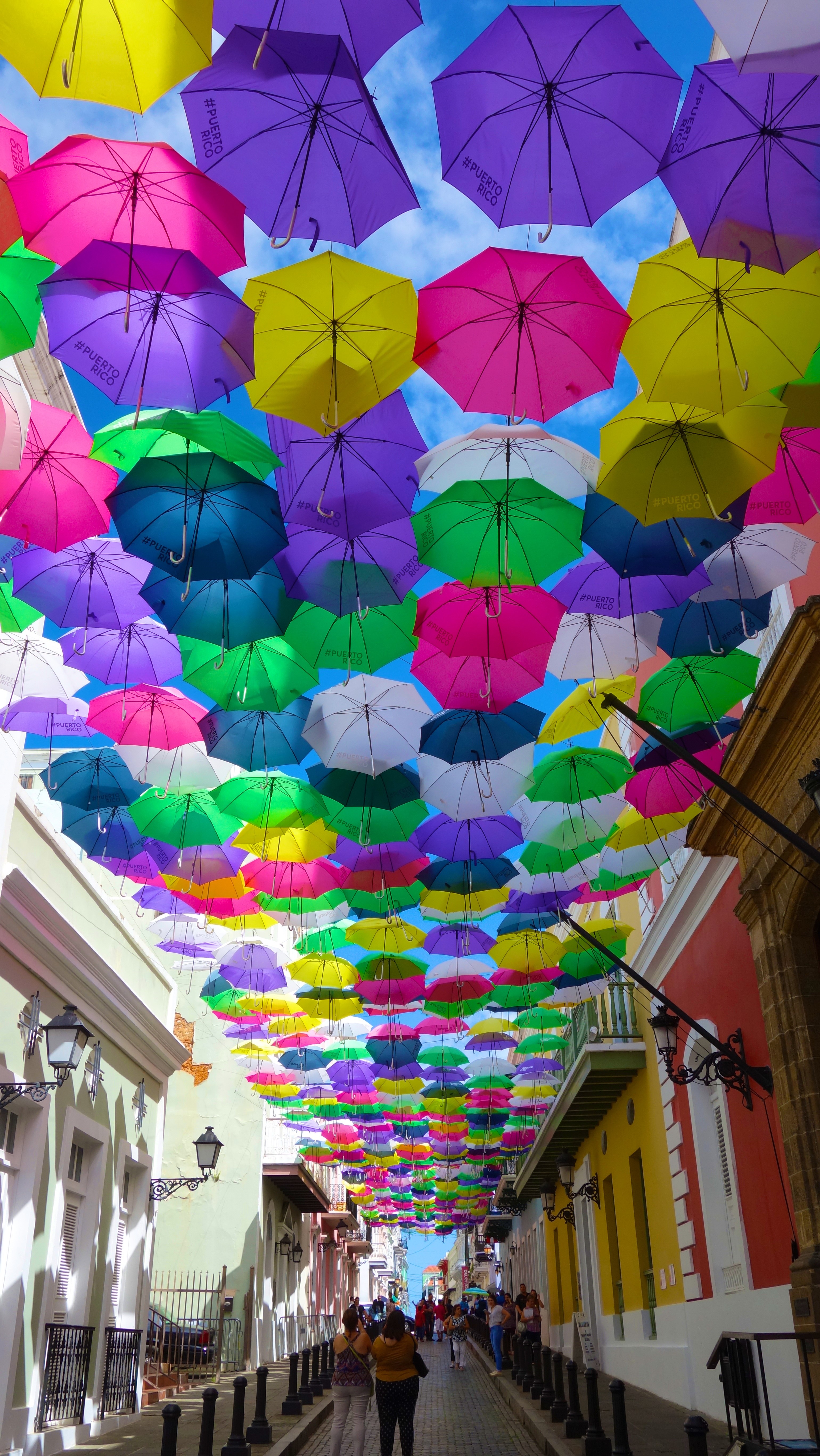 Photo by Pamela Powell
---
Leaving the Park, we opted for an alternate route. This is not recommended, however it did give us a visual of what some of the other smaller, inland towns are still experiencing. Gripping the wheel and zig-zagging along a two-lane road that was just barely wider than our Jeep with vines and trees encroaching on the narrow space, we saw complete depression of towns and people. Again, wires just hanging or duct taped together in an to attempt to get power, and people sitting on their porch to escape the oppressive heat inside their boarded up homes. Many buildings were half-demolished, awaiting their final resting place. Seeing this made me appreciate what I now considered to be my upscale accommodations. Everything is relative.
Our final day was spent in Old San Juan, exploring the town and the castles built by the Spanish begun back in the 1500's and used as recently as WWII. While the history is a violent one, the structures and the views are extraordinary. And this part of town, catering to the several cruise ships which dock here, was the perfect place to find unique artisan gifts to bring back to friends and family.
Puerto Rico was an absolute surprise. We had power, although there were two instances where the power went out, but these were scheduled outages to work on the grid. The roads, with the exception of 9973, were in fine condition and repair work was on-going. There was no need for any of my camping supplies and I felt safe and welcomed at every corner. The water was fine and the coffee was unbelievably delicious and inexpensive at the grocery store. For the most part, everyone was bilingual, although rudimentary Spanish did come in handy when asking directions a few times.
Puerto Rico is a gem of a vacation spot with remarkably clean, pristine beaches, delicious fresh seafood, and ocean adventure opportunities all untouched by Hurricane Maria. Don't expect the Taj Majal and accept that the recovery is on-going and you'll enjoy what's truly important here in Puerto Rico— the people, the food, the culture, and nature.