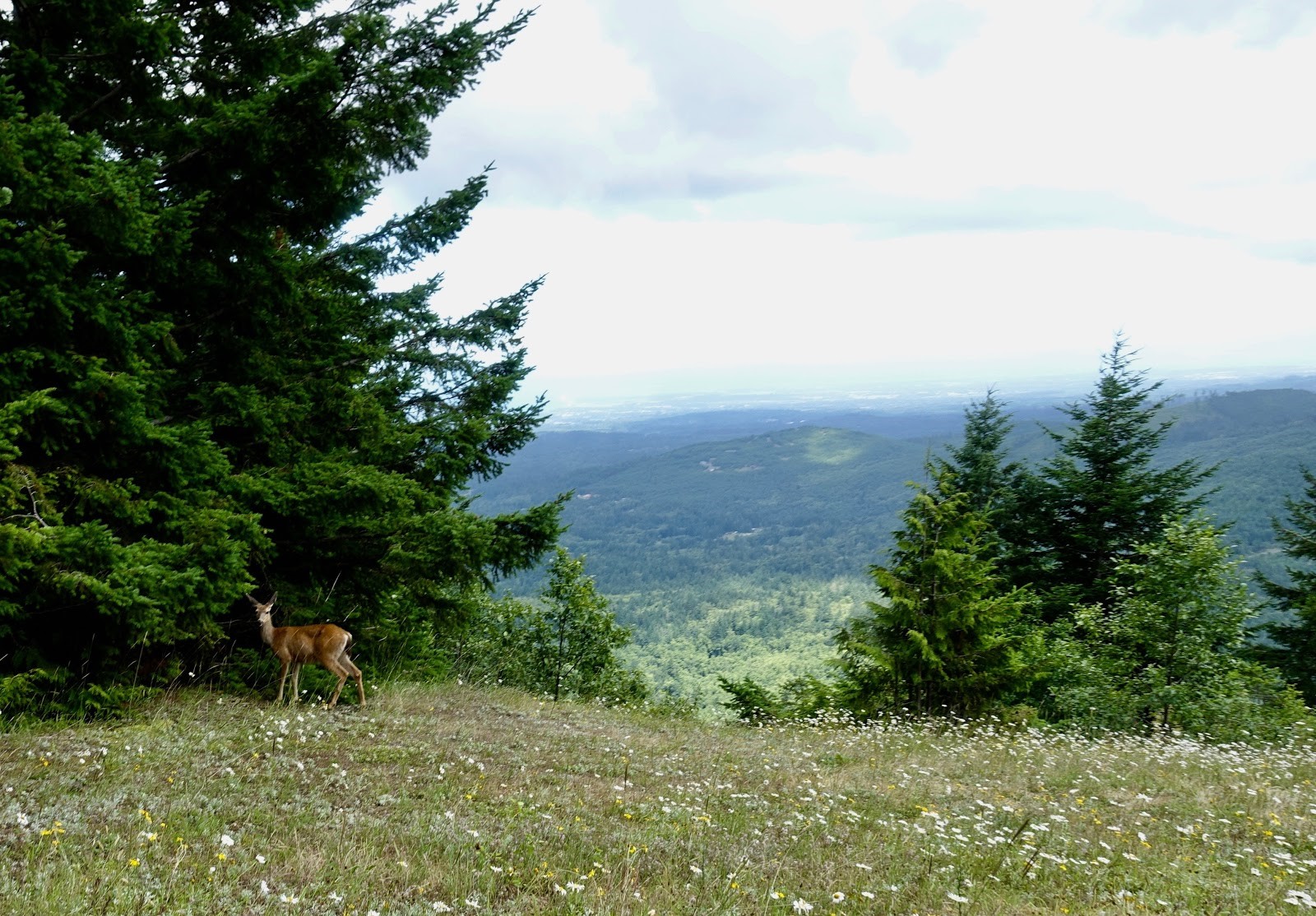 Hurricane Ridge, Olympic National Park.
Photo: Pamela Powell
The US boasts 61 National Parks, many of which I have had the pleasure of experiencing. They've helped me cultivate a passion for hiking and backpacking, to escape the routine and confinements of everyday life. No cell phones (or at least that's what I tell my family), no internet, no e-mails to respond to; it's a total disconnect to reconnect with nature, a way to recharge my batteries and have a better, more positive and productive "regular" life upon my return.
Within those 61 parks are the backbone of the system, the park rangers. While hiking and camping in Colorado, Utah, and Oregon in previous years, my hiking partner and I discovered lesser known treasures, which were hidden beneath the canopy of trees, their winds a whisper, beckoning us to explore.
The park rangers guided us to these seemingly hidden places and shared current vital information about each area. Without this, we may not have known where to cross the Sandy River safely to get to Ramona Falls in the Columbia River Gorge or find the appropriately challenging hike for our level with incredibly striking trails bordered by volcanic irises and mountain poppies blooming in the forefront with Mt. Hood majestically presiding in the distance. The rangers' knowledge is unsurpassed by any book about the areas and we benefited from their training, expertise, and most of all, their uncompromising love of Mother Nature and their desire to share.
The Wake Up Call: Olympic National Park
We had been spoiled and I fully expected the rangers to once again hold my hand, guiding me along to another heavenly trail and experience yet another life-changing trip. The Olympic National Park or, as the locals call it, The Peninsula, was my wake up call this year which is reportedly one of the most visited national parks in the country. In 2018, there were more than 3.1 million visitors who explored one of the only seven temperate rain forests in the world, sub-alpine forests, alpine areas, and of course, the Pacific coastline. Nowhere else in the world can you experience such diversity in such a compact area.
After doing extensive research, our due diligence, if you will, we landed on visiting The Enchanted Valley in The Peninsula. Starting on a Monday would ensure that we would avoid weekend hikers and have a more remote sense of wonder; something we craved. This 3-day, 2-night trek, approximately 27 miles round-trip with little elevation gain, promised a roaring river filled with salmon to feed insatiable bears, wandering elk and deer, and plenty of camping with a backcountry permit. Arriving in Seattle with our gear, bear canister, and after a quick stop at REI to pick up bear spray (we did want to see these critters, but we certainly didn't want to interact with them), we loaded our Jeep, began to drive, and only an hour away from our destination, we looked up. Rain. Thunder. Huge, pelting raindrops. What to do? A. Hike in and be miserable or B. find a new destination.
B. was the answer. With guide book in hand, we quickly scoured possible routes. Driving blindly, north and west, hoping to find either lodging, better weather, or hopefully, even a ranger station, we found the highly trafficked Sol Duc Hot Springs. Certainly we would find any or all of those things here…but we didn't. The ranger station was closed. It couldn't have been too late in the day, but other than some pamphlets and a little signage, we found no help. We had no internet connection and no ranger station to guide us to better weather or possible hikes. We had no way to find out which backcountry campsites were limited and which were open. It became crystal clear, unlike the skies, that you don't truly comprehend the value of an entity until you no longer have it.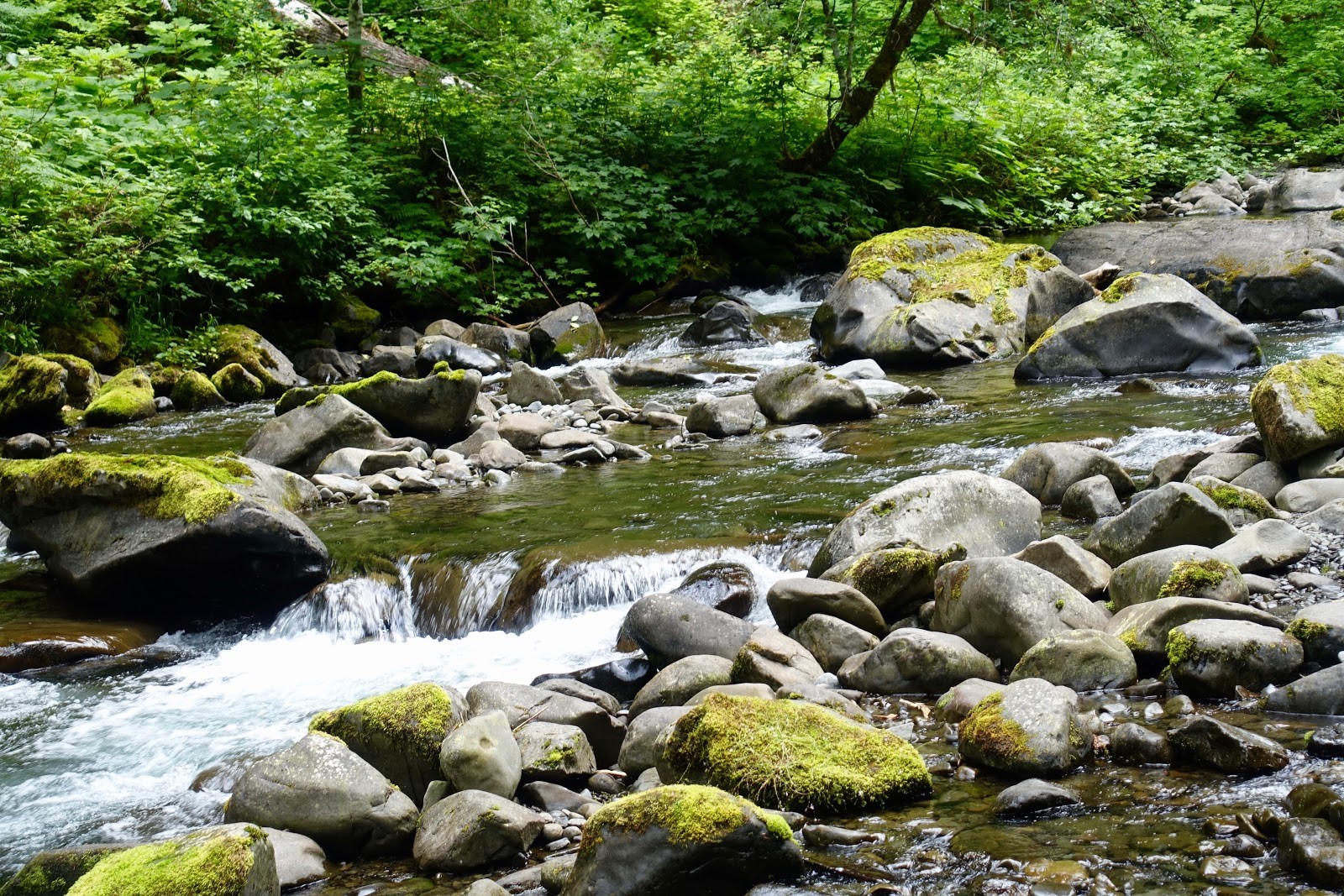 Hood Canal Olympic National Park.
Photo: Pamela Powell
Exhausted and frustrated, we "car camped" and while this wasn't what we came to do, it sure beat camping in Chicago. The beautiful canopy of trees protected us from the wet conditions and we had hope for the next day, but not before soaking in the soothing heated waters at the nearby lodge with no vacancies. It wasn't the adventure we planned, filled with solitude and contemplation, but it was very pleasant.
The next day brought us to a diner called The Hungry Bear Cafe, the closest we would get to seeing any sort of bears. The friendly staff guided us to Rialto Beach where, unfortunately, it was raining. Had we have found an open ranger station, the one here at Rialto Beach was also closed, we would have known that just 12 miles down the road, the Hoh Rain Forest was under sunny, blue skies. Oh, the irony.
Day 4. Thanks to another recommendation from our waitress, we found an off-the-beaten path campground in the Hood Canal. It is here that we also happened upon an open ranger station! You would have thought we hadn't had water for days, the way we drank in all the information they could provide! We were parched for knowledge of what to do and where to go. The answer? Go to Mt. Rainier. If only we had run into these rangers 4 days ago!
There's Research and Then There Are Rangers:
Research is key to ensuring a better trip, and we certainly did our best, finding what was usually the best time of year to go, noting that the middle of July is typically sunny and mild, temperatures high in the 60's and low in the 40's; perfect hiking and camping weather. Finding the best trails with the most scenic vistas was also an aspect we painstakingly researched. What aspect we never anticipated was the lack of rangers, open ranger stations, and ultimately the much-needed guidance we had grown accustomed to. We were spoiled.
Our story isn't an unusual one. Both USA Today and the Hi-Desert Star have reported a continuous decline in park rangers in our National Parks even though there is a marked increase in visitors. With fewer rangers, the park grounds and the safety of visitors becomes harder to maintain. But there is an additional component to the 20 percent decrease in staffing; guidance. No amount of research and reading can take the place of talking with a person with years of experience and knowledge, armed with current information, to better guide you to not only enjoy your trip, but to truly reconnect with nature. After hours of driving, hundreds of miles in the car, we, instead, reconnected with the price of gas.
According to USA Today, "Budget cuts, as well as a long-standing battle within park service leadership over the appropriate role of armed police within America's national parks, have fueled the staff reductions." And with more federal budget cuts looming, it's likely to get worse. In discussing these issues with one ranger, he concurred that they just don't have enough rangers to staff every station anymore, they're spread quite thin.
There wasn't anyone to direct us this year and we floundered, spinning in circles, trying to catch our tails and ultimately, never really catching a break. While our trip had its moments of beauty, surrounding ourselves in the moss-covered cedars, centuries old, enveloping us, rekindling the feeling of safety like a baby swaddled in a blanket, I can't help but regret not finding those hidden trails that opened up into waterfalls and mountains that dwarfed my life and my problems.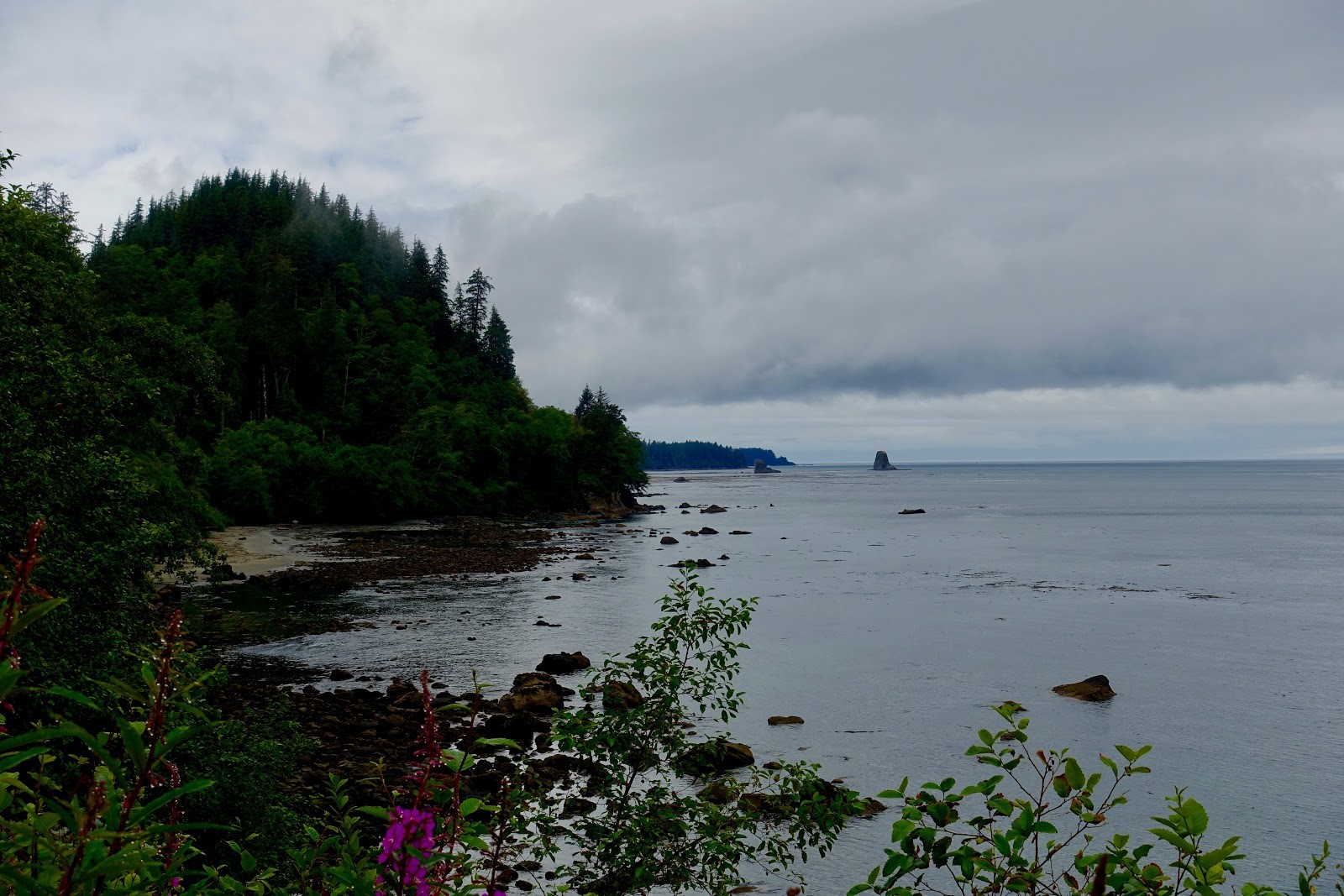 Neah Bay, Olympic National Park.
Photo: Pamela Powell
Before You Visit National Parks:
I can't turn back the hands of time, but I can learn, and hopefully share with you, a better way to enjoy a trip to "The Peninsula" and perhaps other national parks in this gloriously beautiful country of ours. Yes, research is imperative on any hiking and backpacking trip. And while our rangers aren't as readily available in person, making a few phone calls to talk with someone at the major ranger stations before you go may take a few attempts, but is worth it. Ordering maps from the ranger station before calling to talk with them will give you better understanding and a reference point as well.
Our backpacking training wheels have been taken off, a bit too early for my liking, but a few bumps and bruises (and a wet pair of hiking shoes) won't deter me from trying this again next year…I'll just be better prepared.