During a recent family vacation to Miami, our two oldest children, Corina (19) and Emmanuel (23,) and I took a day trip to Key Largo to go SCUBA diving. We had completed all our training during the previous year, and this was to be our first "real" dive in the open ocean. Key Largo is known to be one of the most popular diving destinations in the world, and we were excited to see what they had to offer. After a bit of research online, we chose to use Island Ventures as our outfitter and guide source. The company's slogan is "Stress Free Diving," and they deliver on that promise.
After a ninety-minute drive from South Beach, we arrived at the facility, which is located on an inner waterway canal. We were greeted by our boat captain/dive master Dave, who introduced us to our guide for the day, George. They showed us around the facility and then sent us to get our gear fitted. We were equipped with BCDs, regulators, and wetsuits, which we tried on to be sure they were the proper size. Corina requested that she be issued two wetsuits, so she could layer. Corina is always cold. Next, we headed for the boat.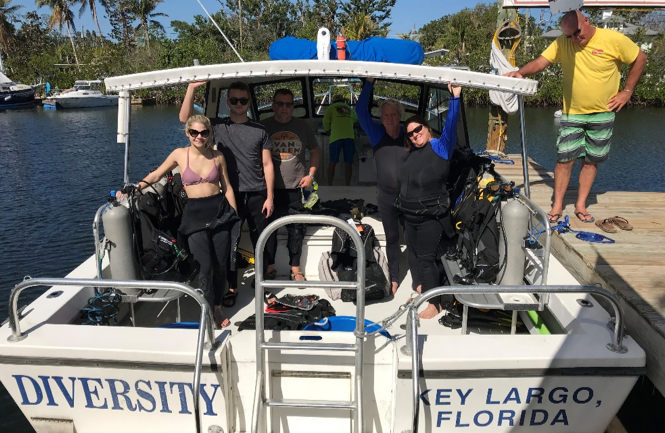 The crew took care of loading all the gear, including two oxygen tanks for each of us, and Dave gave us a quick safety orientation of our boat, the Diversity. He also directed us to the refreshments and snacks that were provided. Next, we were introduced to a couple from New Smyrna Beach, Florida, who were joining us on the trip. We were then told to sit back and relax for the forty-five-minute boat ride to the dive site. As we pulled away from the dock, we quickly became aware of the residual damage left from hurricane Irma in the Florida Keys. There were uprooted trees everywhere, and numerous boat wrecks along the shore. Our guide, Chip, told us stories of riding out the storm in his home, just a few hundred yards from the dive shop. It appeared that life had pretty much returned to normal, but the effects of Irma will be long-lasting.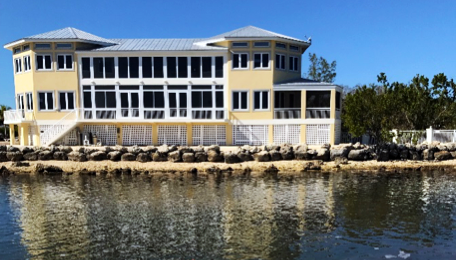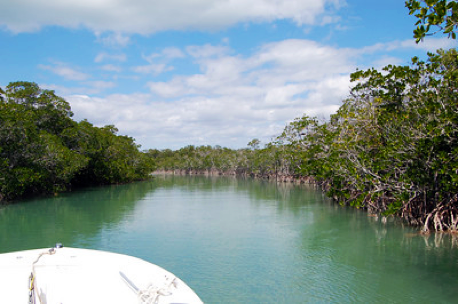 As we emerged from the canal, we began our journey through the many small islands around Key Largo. We passed some beautiful homes along the shore and motored through narrow waterways surrounded by the mysterious mangroves. Finally, we emerged into the open ocean and headed toward our dive site, Elbow Reef. This coral reef area is part of one of the largest living coral reefs in the world, and most of the area is a protected sanctuary. This means that everything must be left as it was found. Fishing is only allowed in designated areas, and this helps the wildlife to thrive and keeps the area pristine. Because of its shallow depth (30-60 feet) this reef has been the site of many shipwrecks. The most famous of these was the 315-foot steamship, the Hannah M Bell, in 1911. These wrecks appear to be a magnet for a multitude of fish species.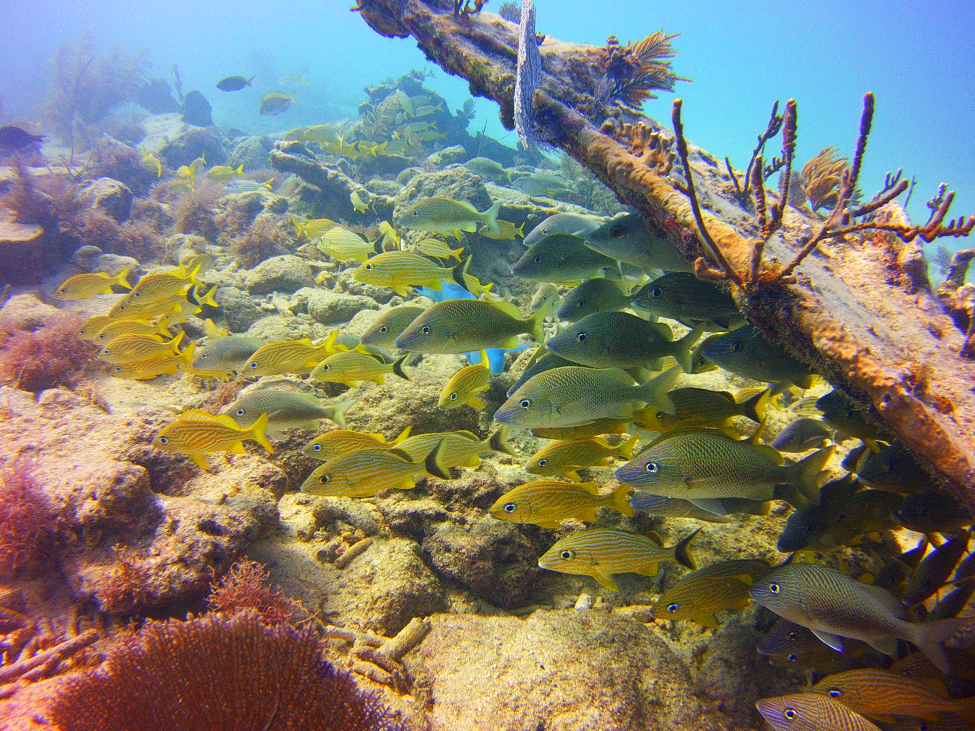 Once we were moored at our dive site, we geared up and one-by-one took the plunge off the back of the Diversity. Although diving is always done in groups, once submerged, it becomes a very solitary activity. There is very limited communication with your dive mates, and the silence is surreal. The only sound that can be heard is that of your own breathing. As soon as one is acclimated to the environment there is an overwhelming feeling of calmness and serenity. If you need to clear your mind and leave the stress of life behind, this is the way to do it!
As we descended, the wrecks on the sea floor came into view. There is not much left of these ships other than a grid-like pattern of steel beams and girders. The wildlife abounds here, and it takes a while to settle into the surroundings because there is so much to see. It was startling at first to see how close the fish would approach me—I could almost touch them. But, not quite. They were very aware of their superior maneuverability in the water. As I reached the bottom, and the remnants of the shipwreck, I suddenly saw the face of a puffer fish come into view. Up close, it was both interesting and terrifying. I quickly retreated.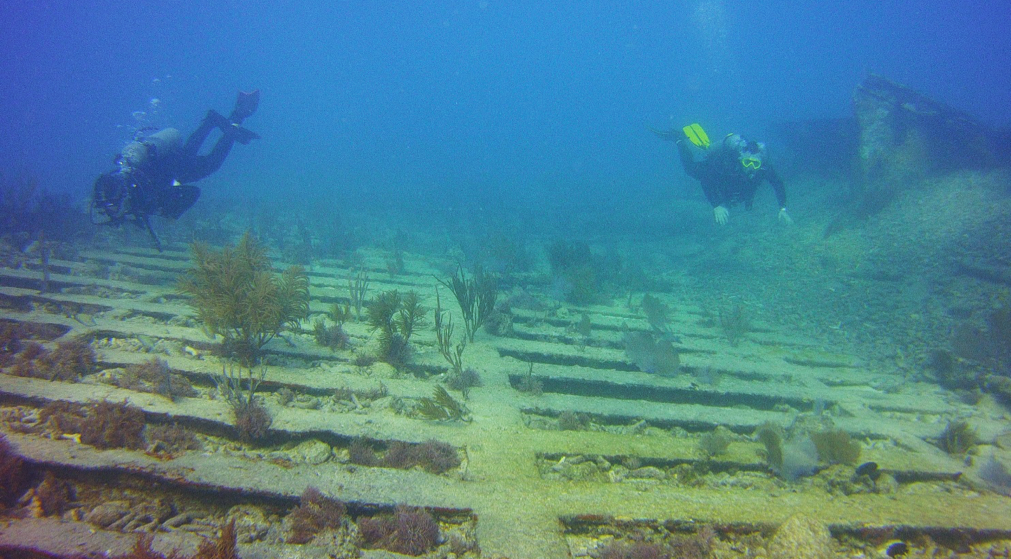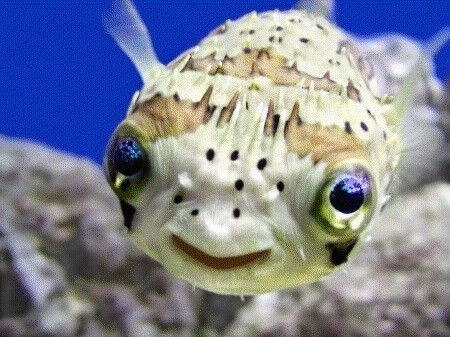 Once settled in, we began our journey around the perimeter of the wrecked Hannah M Bell, led by our guide, George. The bottom of the ocean was as diverse as you can imagine. In places it is covered by remnants of the wrecks, and in other areas it is just pure fine sand. Most of it, however, has various coral and rock formations. Within the formations live all sort of interesting creatures. At one point, George began to excitedly point at what first appeared to be an ordinary area of coral. Upon further examination, however, it became apparent that there was a small cave in the coral, inside of which was a giant lobster. This lobster was much larger that those I have seen in seafood restaurants, and he carried an ominous look that seemed to demonstrate that he had no intention of ending up in one of those tanks!
The next few moments provided an adrenaline rush that carried me through the rest of the day. George, Emmanuel, and I were swimming along three abreast, with Emmanuel in the middle, and lagging behind by 5 or 10 feet. We approached a large rock formation on the ocean floor. I swung to the left of it, George to the right, and Emmanuel chose to ascend a bit and swim over the top of it. As I began to pass the formation, I noticed something nestled on the leeward side of it, down in the sand of the floor. At first, I did not know what it was, but then started to make out the form of the tail of some sort of fairly large sea creature. A moment later, as my view of it improved, I suddenly realized I was looking at the tail of a shark! Before I could even attempt to get Emmanuel's attention, the large fish started to drift upward and then made one sudden wag of its tail. The tail actually hit Emmanuel's flipper, and in an instant, the shark was a good twenty feet behind us. Emmanuel would tell me later that he didn't even see it until after it swam away, and he thought that he had kicked the rock with his flipper. This was a thrill that I did not see coming. At first, I wanted to quickly go to the surface to catch my breath, but you can't do that, so I had to just breath deeply and calm down. I refocused my attention on the beauty surrounding us and continued on our journey. When I described the shark to the group later, we determined that it was a harmless nurse shark.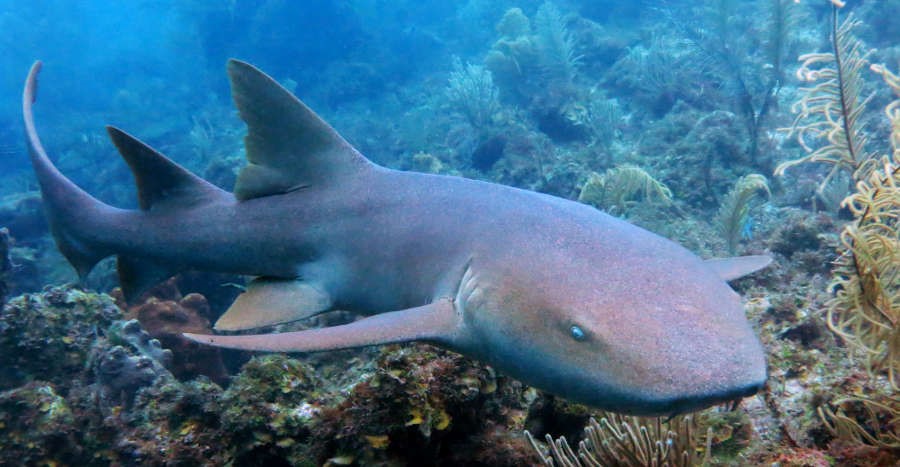 The next bit of excitement came as I was suddenly face to face with a barracuda! Much like the other fish, this one didn't seem a bit concerned about my presence. The difference was that this one didn't look harmless. Barracudas are thin, but very long, and have very intimidating teeth. They seem to enjoy showing these chompers as a snarling dog would. As I continued to swim, it seemed for a moment that this sinister creature was challenging me to a staring contest. He was refusing to look away, and he most definitely did not blink! For a moment I considered that he might be sizing me up for a meal, but there is no way I would fit in his mouth. I continued on as he hovered motionless, eyeballing me until I was out of sight.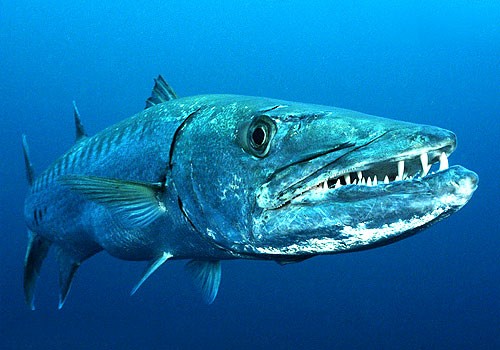 George then signaled to everyone to check our air gauges. I was getting low (I was probably going through an excessive amount of oxygen during the shark incident), so we began our ascent to the surface. This took a few minutes so that our bodies could adjust to the pressure and rid our system of the excess nitrogen that accumulates during dives. Upon reaching the surface, we each re-boarded the Diversity, and began our voyage back to the port. The crew helped us remove our gear, and we relaxed for the ride.
Once we arrived at the dock, the Island Ventures staff handled all the gear. They even took care of rinsing the saltwater from everything. We gathered our belongings and thanked everyone for a wonderful time. After some discussion, we decided that on our next trip to Key Largo, we wanted to dive at the Christ of the Abyss statue in the underwater John Pennekamp Coral Reef State Park. George and everyone else at Island Ventures promised that they would have the gear and the boat ready for another day of No Stress Diving.