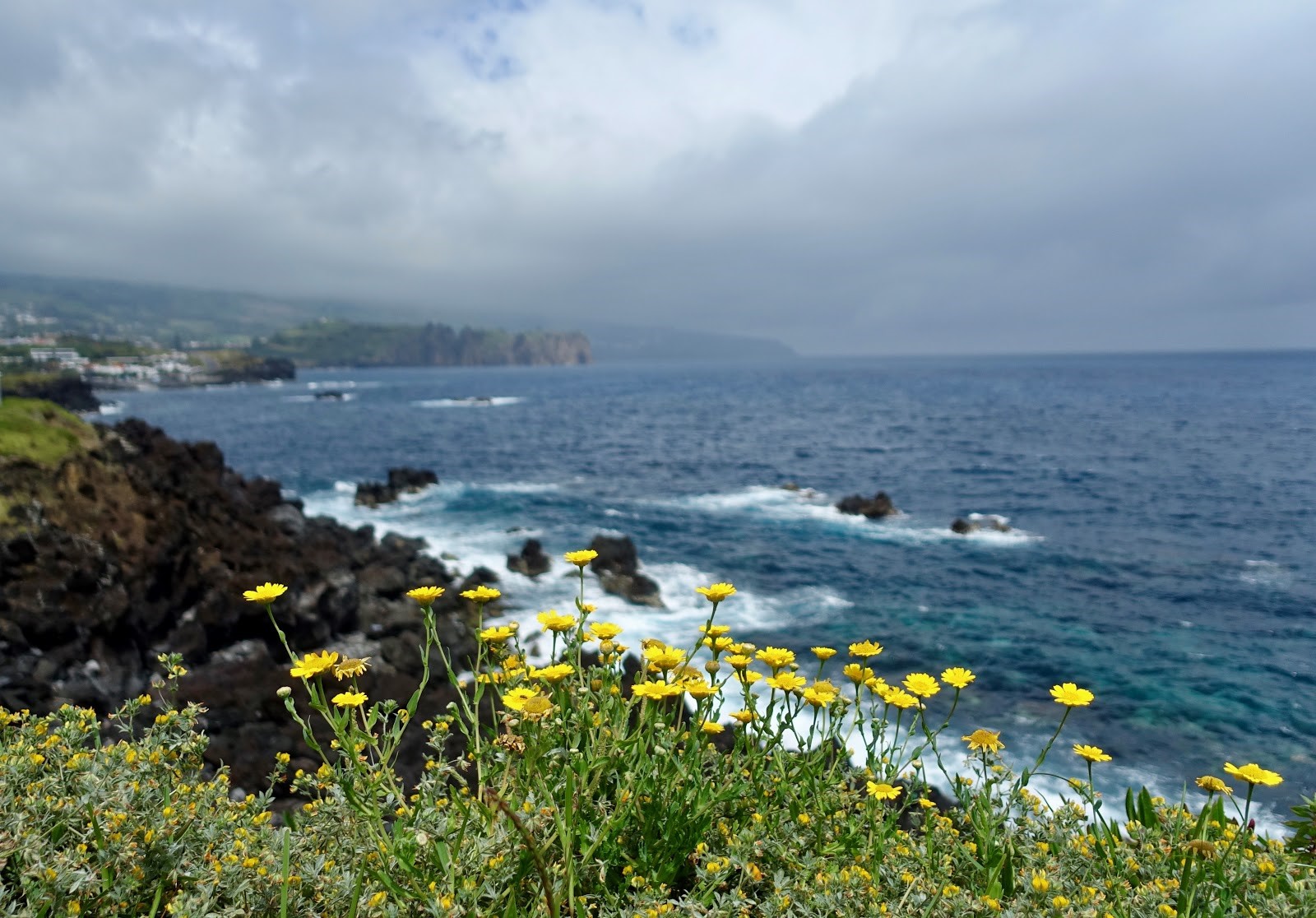 Photo By: Pamela Powell
You've got your passport, but traveling abroad can be time consuming and expensive. Nothing could be further from the truth when it comes to Azores, Portugal.
Spanning nine islands, Azores, Portugal has been nicknamed The Hawaii of The Atlantic. It's a mere 4 1/2 hour flight from Boston or NYC thanks to Delta Airlines, which makes it a great option for a long weekend trip. After a quick flight to Europe, you'll be welcomed with ocean view cottages nestled in the hills, which you can find for under $100 per night on popular sites like AirBnb. If you think this is too good to be true, think again. The Azores are a dream come true for adventure seekers and nature lovers alike who can't do a weeklong trip in Europe and don't want to deal with large crowds of tourists.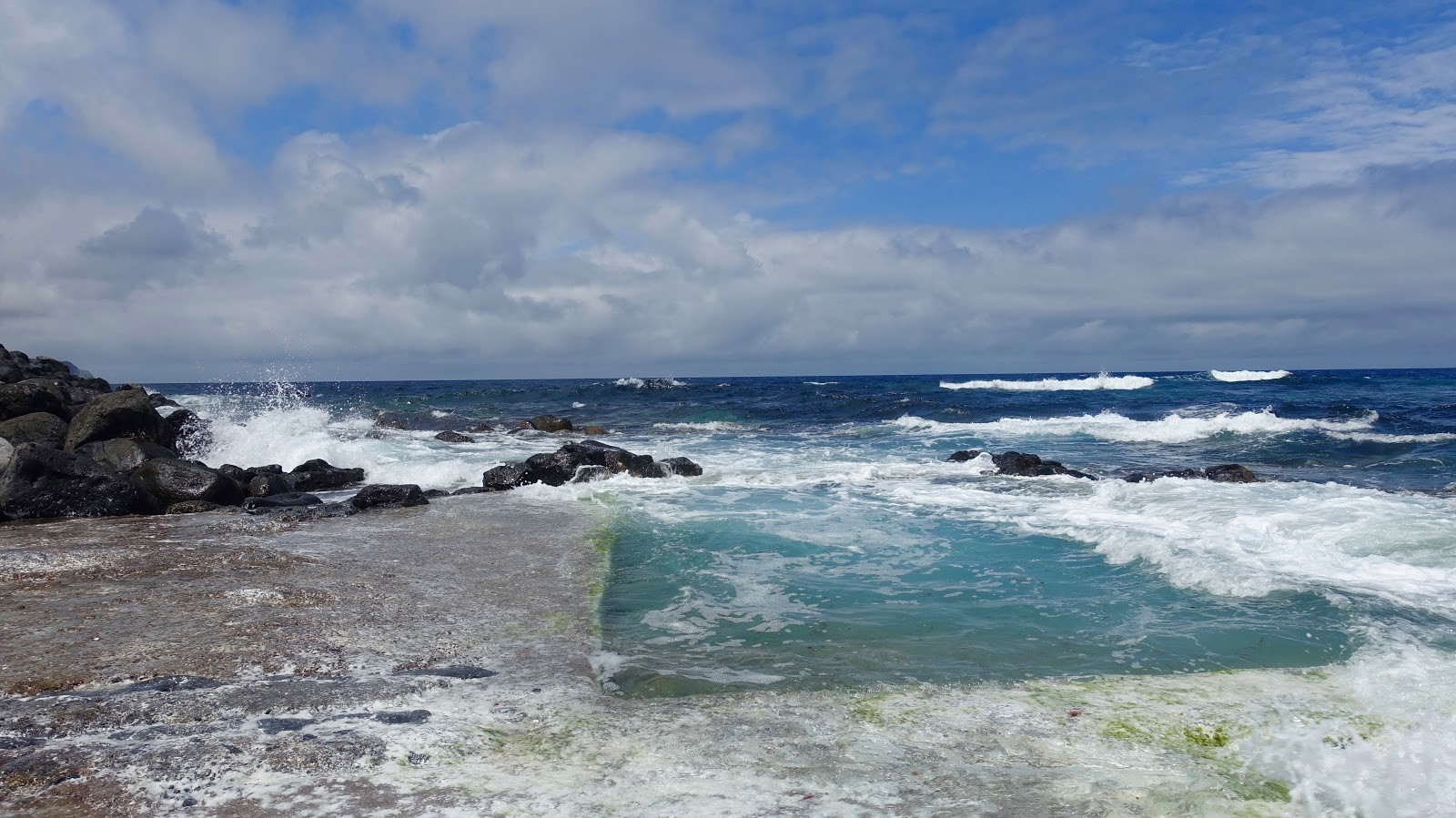 Photo By: Pamela Powell
After flying into Ponta Delgada on São Miguel, an easily manageable airport, you'll need to rent a small car. I quickly learned not to upgrade to a bigger rental car as small/compact cars are the only size that fits on The Azores narrow city and country roads. Head out of the city proper where cruise ships dock and invade the quaint city streets. Once outside the capital, the island is your oyster and there are no wrong choices of where to stay or what to do, although some towns do offer more amenities than others.
São Miguel: Tangy Cheeses and Black Lava Cliffs
The lush and geographically varied São Miguel, is the largest island in the autonomous region of Portugal. Reminiscent of Kauai's Napali Coast and Iceland's simple architecture and geothermal pools, the small town of São Miguel was discovered by Gonçalo Velho Cabral in 1427, but it's just now being discovered by European and American tourists. Black lava cliffs formed by volcanoes long ago and verdant, rolling hills surrounding small villages inhabited by fishermen and farmers, are just a few of the things that you will take in on your travels. Cows graze leisurely in meadows on the mountainside or on a small plot in town. It's not unusual to have to veer around a bovine sauntering along a dirt road or city street. These happy cows give the island plenty of milk to make the tasty, tangy cheeses found only in The Azores.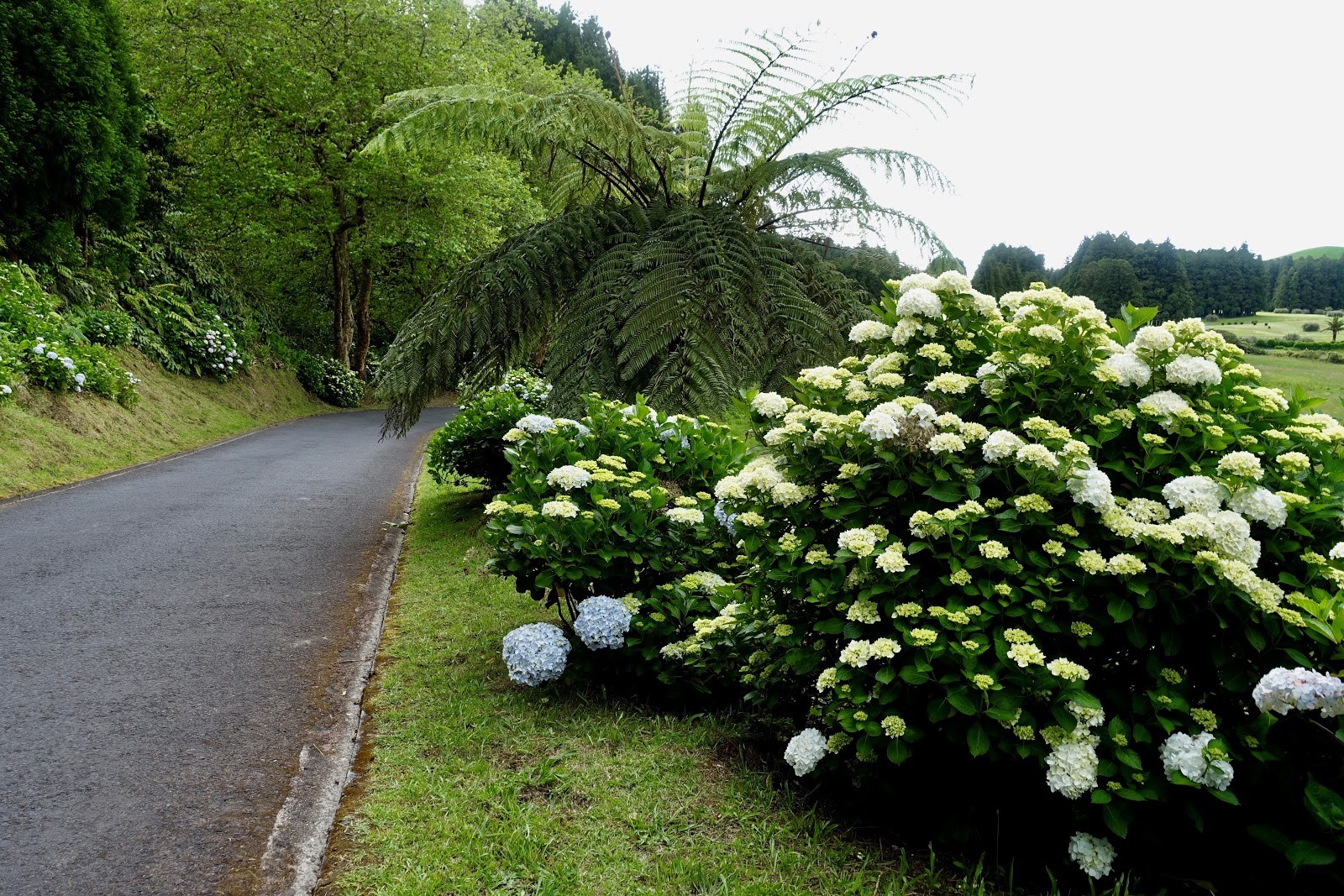 The roads in The Azores become barely wide enough for two Mini Coopers to pass in opposite directions.
Photo By: Pamela Powell
Small Roads and Big Adventures:
If adventure is what you seek, head to Vila Franca do Campo, the island's first capital before a tragic earthquake in 1522, which offers an array of activities such as scuba diving and snorkeling, deep sea fishing, dining, and rustic or luxurious accommodations in town and nearby in Água de Pau or Caloura . Vila Franca do Campo is on the sea and midway on the south side of the island which affords those who like to get up and go exploring the perfect location to do so. The winding streets lined with colorful houses have doors that open inwardly so as not to open, quite literally, into the road, making driving a full-on activity, honing your reactionary skills and staying alert at all times. Once outside the village limits, the roads become barely wide enough for two Mini Coopers to pass in opposite directions. You'll continue to wind at sharp angles depicted on signs that might be considered hilarious if it weren't for the fact that they were accurate!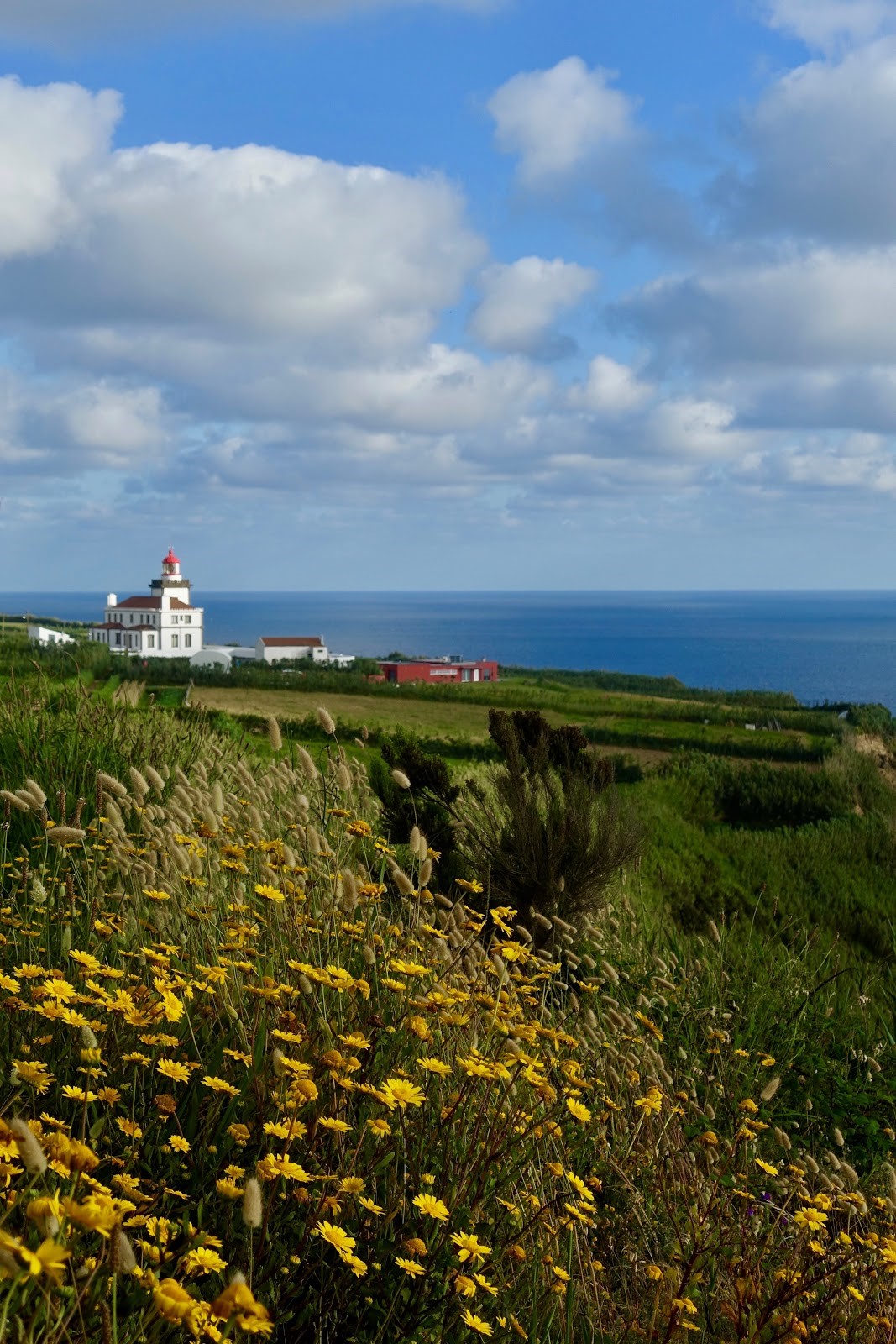 Photo By: Pamela Powell
A Botanist's Heaven:
Distracting vistas, near and far, require frequent stops along the way no matter your ultimate destination. Thankfully, plenty of designated "Miradouras" or Viewpoints are available to safely park your car and soak in the setting sun along the dark cliffs outlined by the crashing waves or the myriad number of blooming flowers that wildly grow along the roads. A botanist's heaven, the colorful flora, includes blue hydrangeas ranging from pale to bold, pink azaleas, red wild roses, deep purple and bright white African violets, and red and yellow cannas, perfectly placed making the entire island look as if it was a horticulturist's well-planned design. Gigantic-sized Aloe vera plants which could have easily been shouting, "Feed me, Seymore," are everywhere and the greenery with unknown buds promises the next adventurer in a month's time another gorgeous display of color.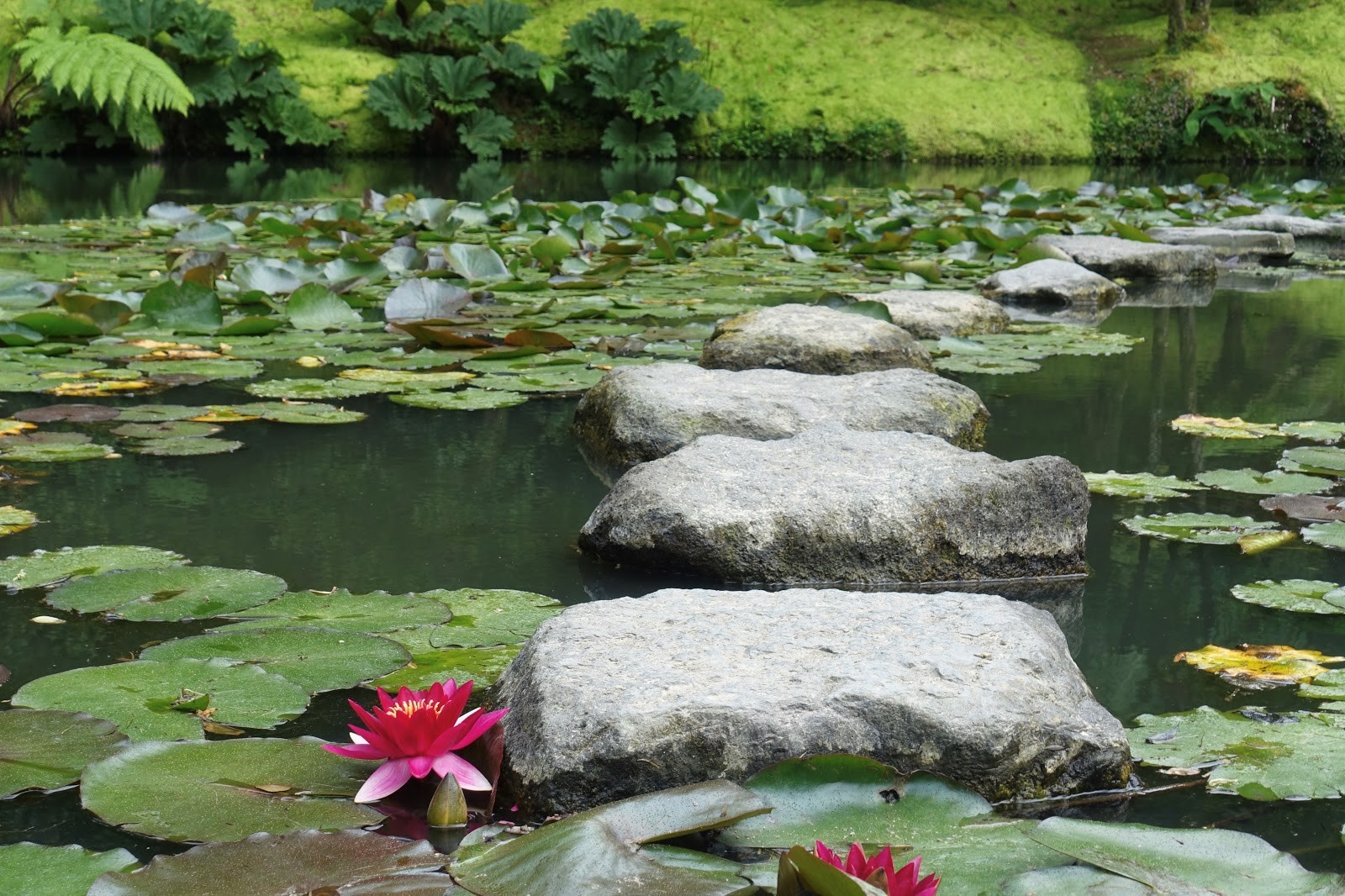 Botanical Gardens in Azores, Portugal
Photo By: Pamela Powell
If a hike is on your agenda, there are a multitude of options from short, flat adventures to arduously treacherous treks that make your heart race from exertion and excitement as you discover yet another waterfall such as Salto Do Prego or Cabrito. The trails, no matter where they are on this glorious island, are all well-marked with red and yellow painted signs. Walk along the coastline ridge or through a jungle, along long-deserted stone mill houses and "castles" now covered with vegetation which resemble art sculptures, not ruins. Stroll around a pristine lake, painted the color of opaque emerald green, sapphire blue, and citrine orange, all ever-changing depending upon the weather, the clouds, and the sun.
The lakes are entrancing, mesmerizing, eliciting a Zen-like mental state. Using the app visitazores.com allows you to find which lake to visit that day as the weather can engulf the lake in fog or highlight it with the rays of the sun. Lagoa do Fogo or Lake of Fire, Sete Cidades, and Lagoa Congro are three very different and strikingly surreal bodies of water not to be missed.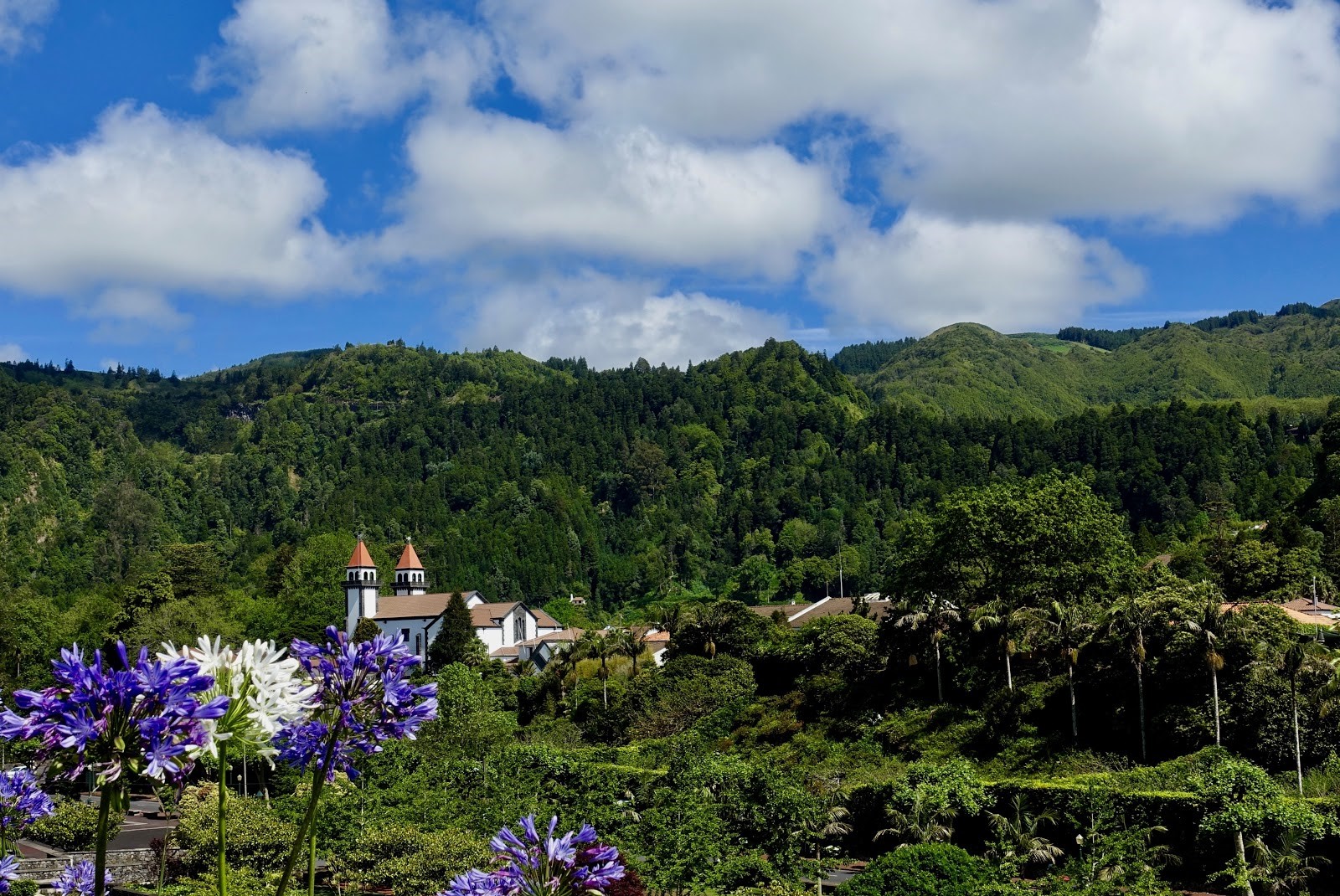 Lagoa do Fogo in Azores, Portugal
Photo By: Pamela Powell
Geothermically heated ocean inlets and man-made pools on the ocean's edge, filled and refilled by the crashing waves are unique opportunities afforded by the teamwork of Mother Nature and São Miguel. Piscina Natural da Ponta da Ferraria, lined with ropes to keep you anchored while the cold ocean waves come crashing in, then heated by the volcanic rocks below, sweep back out to sea, energizing you as you hold on and watch the sun sink below the horizon.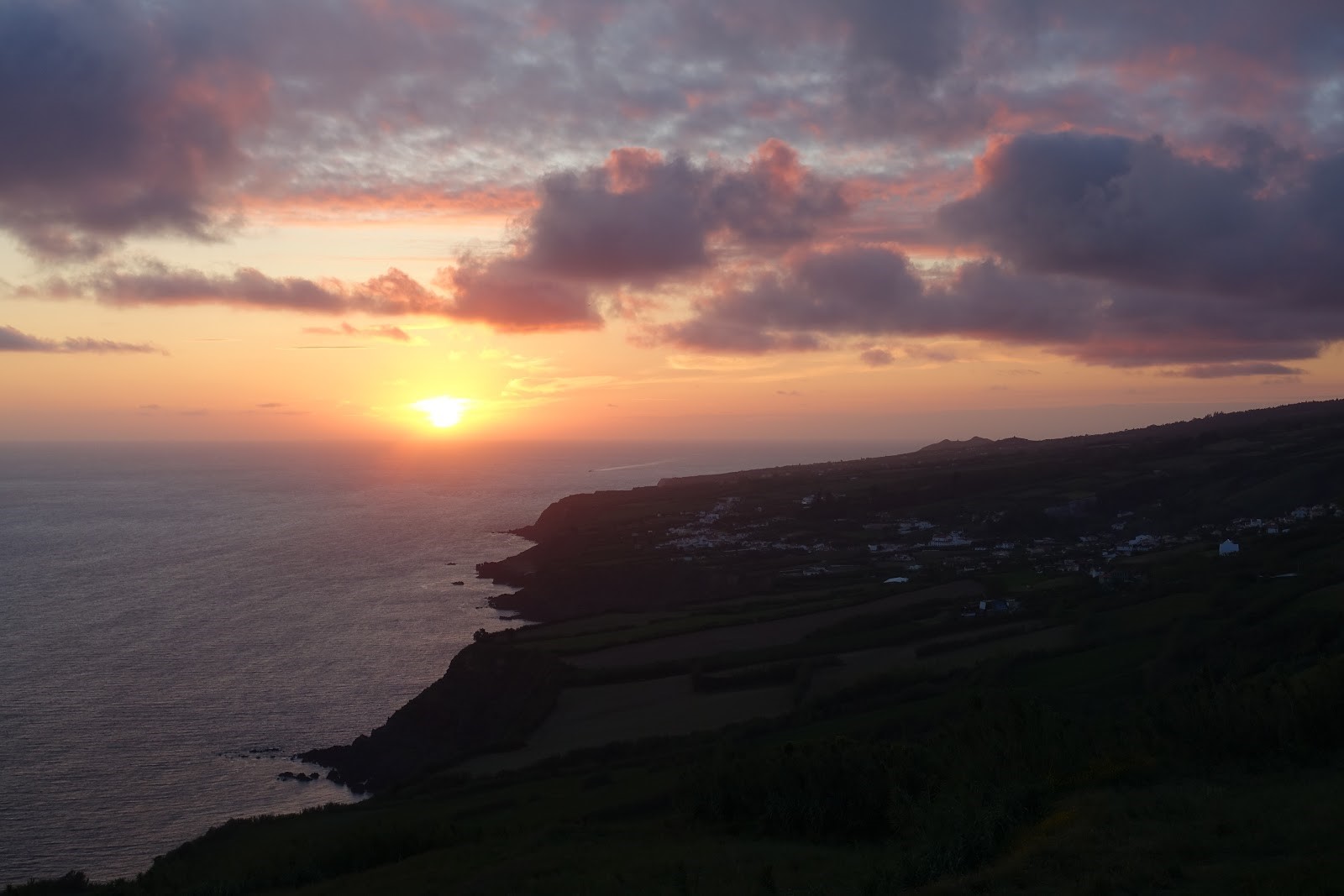 Photo By: Pamela Powell
There are plenty of other thermal pools to soothe your muscles after a long day's hike, too. From the rustic wonder of the bath in Caldieras and the secluded Caldiera Velha carved into the mountain jungle to the mystical, relaxing Poça da Dona Beija with its walls of hot water encompassing you in a steam sauna surrounded by the vivid colors of the flowers and the numerous, oddly orange soaking pools created by the iron in the water, you're in for a memorable experience. (Wear a dark-colored suit or it may be permanently orange.)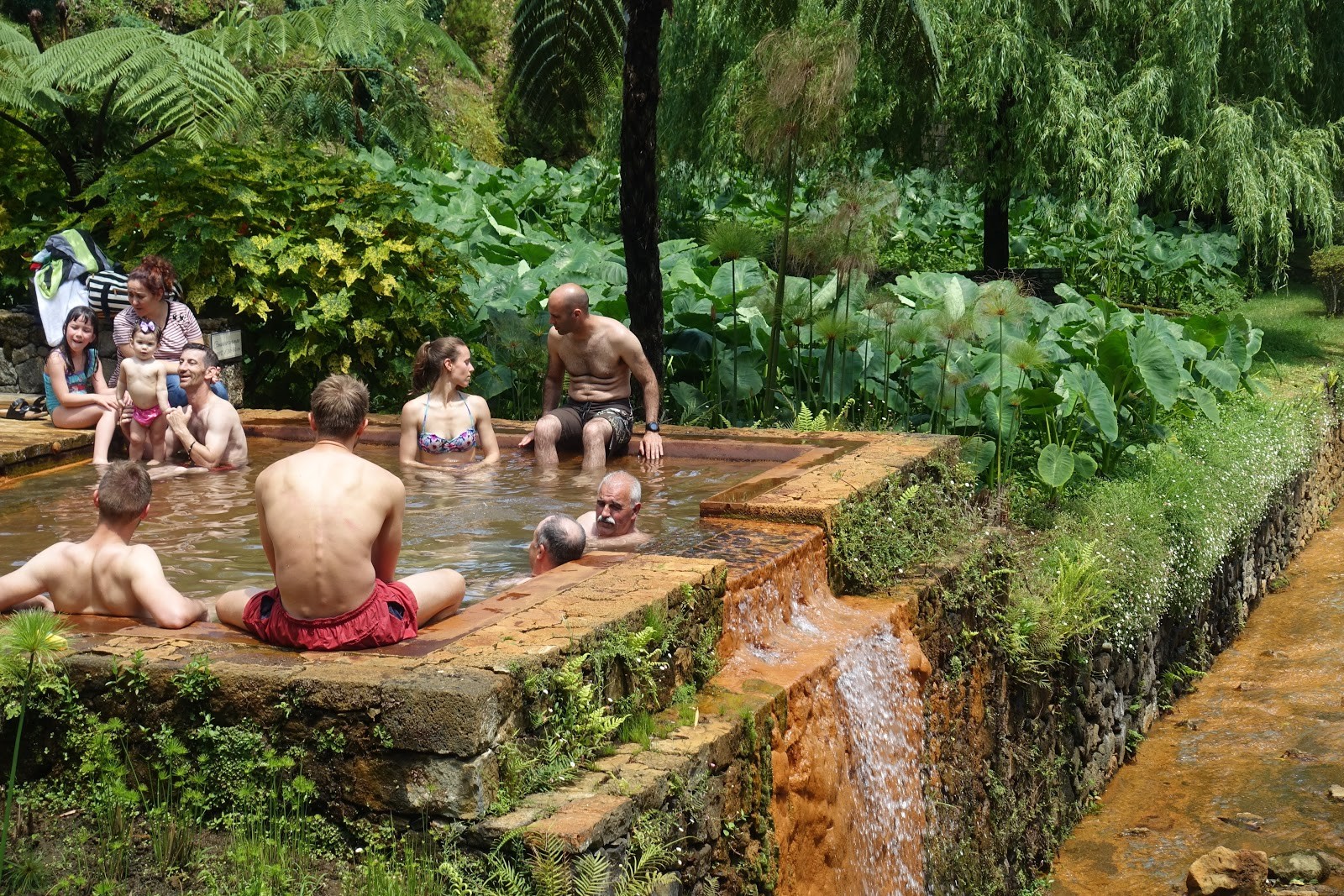 Poça da Dona Beija in Azores, Portugal
Photo By: Pamela Powell
Spa day in Furnas (/fur nash/) is a must at the Terra Nostra Garden Hotel surrounded by a botanical garden that would make Monet jealous or the historic Furnas Boutique Hotel, offering an array of wellness services. If golf is more your cup of tea, you'll find three courses located across the island.
Gourmet Meals:
Dining and wine tasting can be daily activities as well as a highlight thanks to the Mediterranean-like climate here accompanied by locally trained chefs who seem to innately know how to create gourmet, yet simple culinary delights. In the bustling town of Relva, located on the ocean, is Saca-Rolhaus Taberna, where Chef Fernando Soares presents diners with not only a personal touch, but also the most flavorful dishes imaginable. Fresh salads that make your mouth shout, "Yes! This is what a carrot should taste like!" and seared tuna fit for a king, seasoned lightly with a sauce that reflexively makes your eyes close. Savoring every mouthwatering bite, it is the roasted whole pig that is the pièce de résistance with juicy flavors your palate has never experienced before. This could easily be the best meal you've ever had.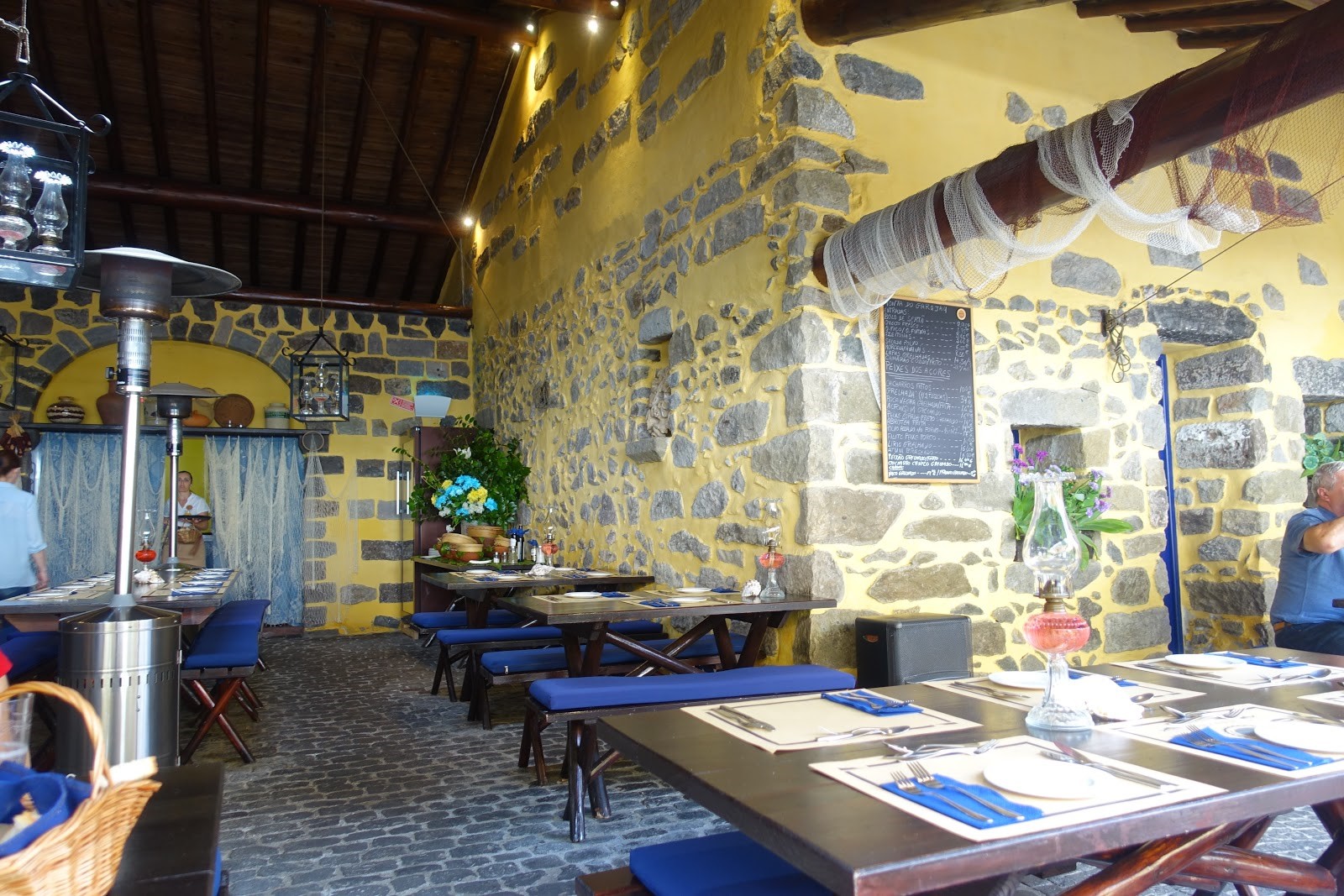 Restaurante Ponta do Garajau
Photo by: Pamela Powell
Local Wine:
Traveling to the east side of the island to Ribeira Quente, you'll find Ponta do Garajau, an indoor-outdoor restaurant enveloped by wood and stone walls with awnings to create a comfortable and cozy space. The traditional sweet bread, Massa, accompanied by locally produced delectable butter could be a meal in itself, but instead primes you for the seafood selections, freshly caught and presented in this relaxed atmosphere. The wine list, like in each and every restaurant, is outstanding. Local and Portuguese wines are delicious and won't break the bank…even if you try.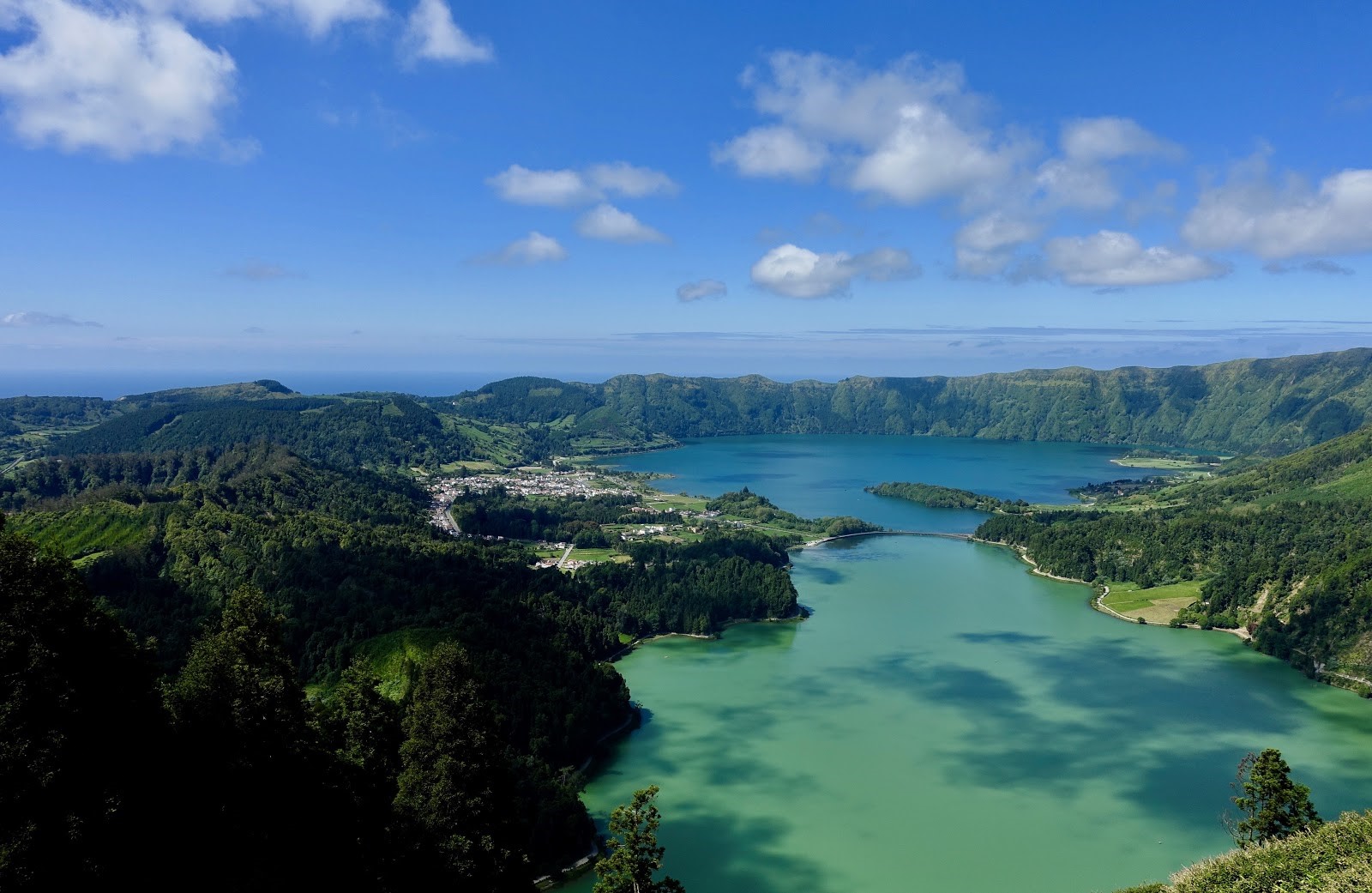 Sete Cidades in São Migue
Photo By: Pamela Powell
Red Bull Cliff Diving and Snorkeling:
Of course, with the ocean as your backyard, surfing, boating, deep sea fishing, snorkeling and scuba diving are all options. First-time divers have a patient and knowledgeable expert to show them the ropes with diving instructors and captains from Azores Sub Dive Center. Learn the basics and do a "try dive" right off the coast of Vila Franca do Campo at the "Princess Ring" (Ilheu da Vila Franca do Campo) where the crisp, crystal clear waters allow you to swim among colorful parrot fish and perhaps tonight's dinner. The icing on the cake is the tour around the small isle where the Red Bull Cliff Diving Championships occur each year.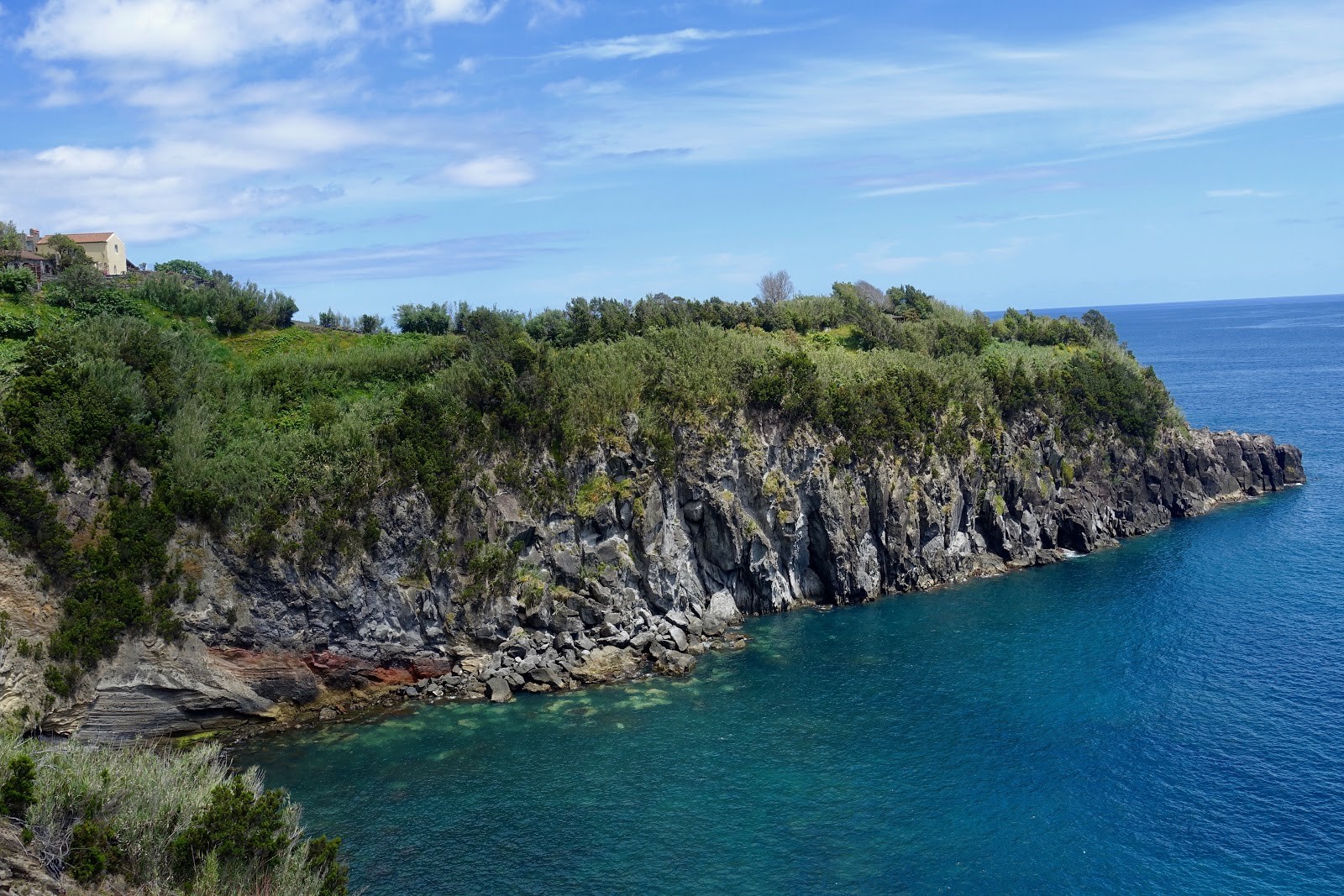 Photo by: Pamela Powell
Nature and Animals in The Azores:
With the temperatures dipping into the low 50's at night and only in the 70's during the sunny days in mid-June, mosquitoes and other pesky flying insects are nowhere to be found and neither are dangerous wildlife. Bees abound, pollinating the multitude of gorgeous flowers, but it is the Cagarros, or Cory's Shearwater birds, that provide an evening's entertainment with the crazy song they sing as they come in at night to do what birds do. A child-like voice calls out, "Ow ow ow ahhh, ow ow ow ahhh" making you laugh aloud repeatedly.
Furnas in Azores, Portugal
Photo by: Pamela Powell
Enjoy This Hidden Treasure:
Choices abound here and while the black sand beaches aren't luxurious, they are beautiful set against the stark white towns and varying shades of ocean blue water. There are plenty of activities that will keep adventure seekers, nature lovers, and foodies ecstatic. With an easy pace, no need to learn Portuguese except for "obrigado" meaning "thank you," and an incredibly inexpensive price tag attached, this is the perfect vacation destination that, at least right now, is a hidden treasure.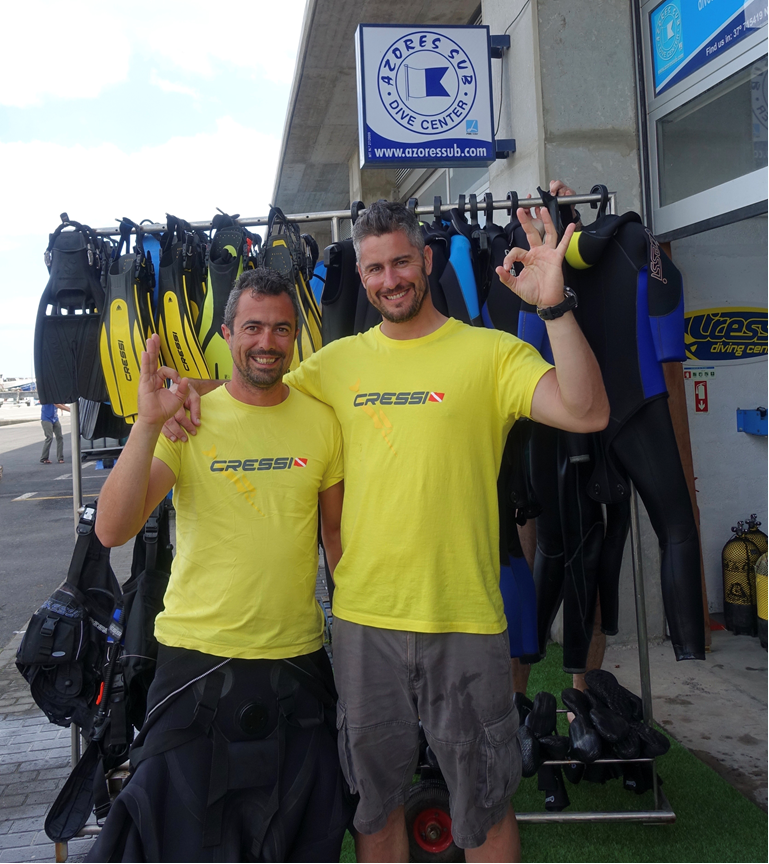 For an amazing dive/snorkel adventure, visit Azores Sub Diver Center.
No Comments