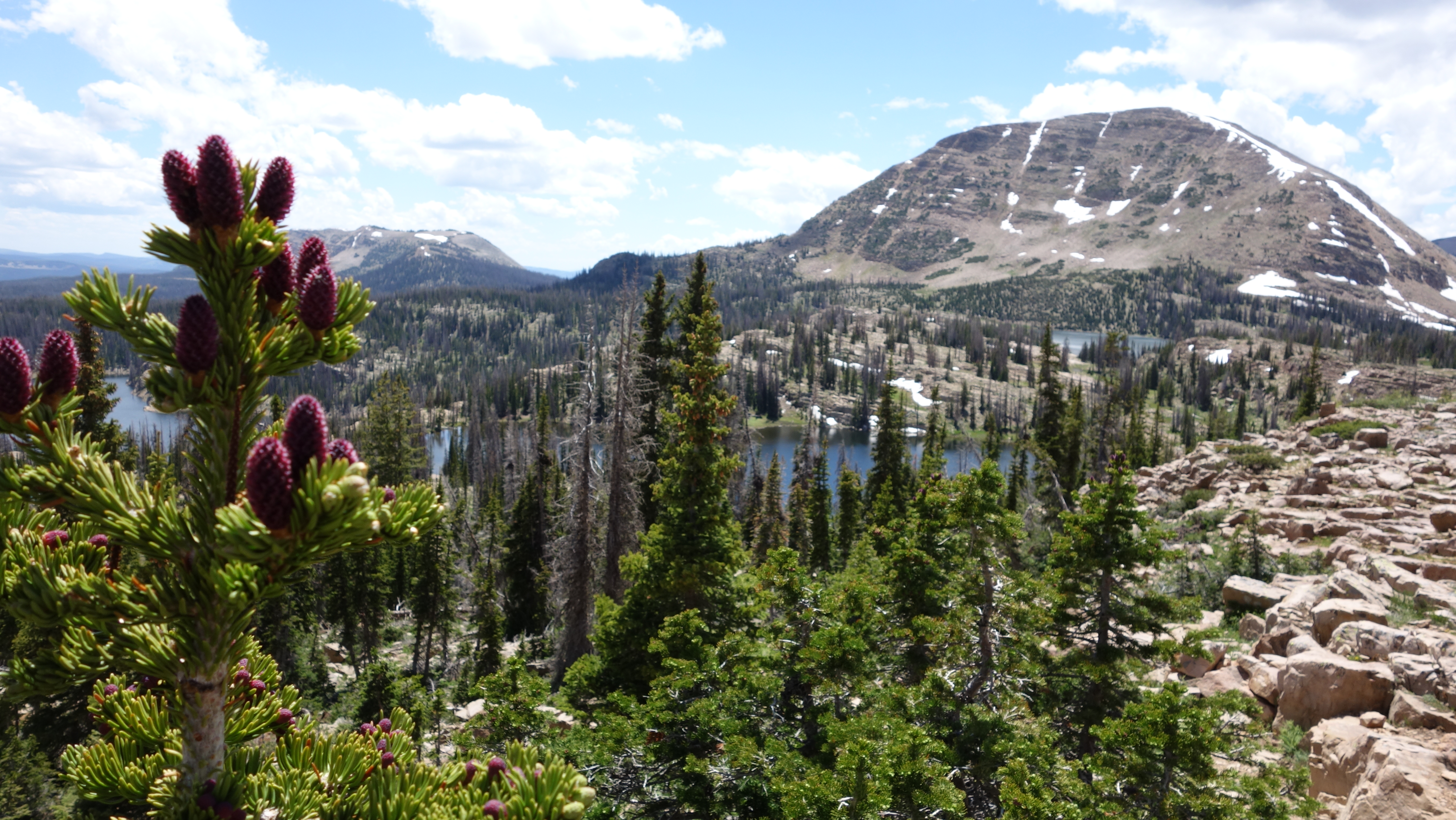 Trekking through the wilderness in the backcountry of Oregon and Utah is nothing new to me, yet each and every trip through these mountain ranges, lacking cell service, and carrying only what I need to survive for days on end, never seems repetitive. But there comes a time to up the ante and add a little more spice to the adventure of life and this year, that challenge was rock climbing. Having a fear of heights, it was time to face that fear head on and thanks to Shaun Raskin Deutchlander, the founder of Inspired Summit Adventures in Park City, Utah, I was able to create my own unique multi-adventure trip to include scaling the face of a mountain!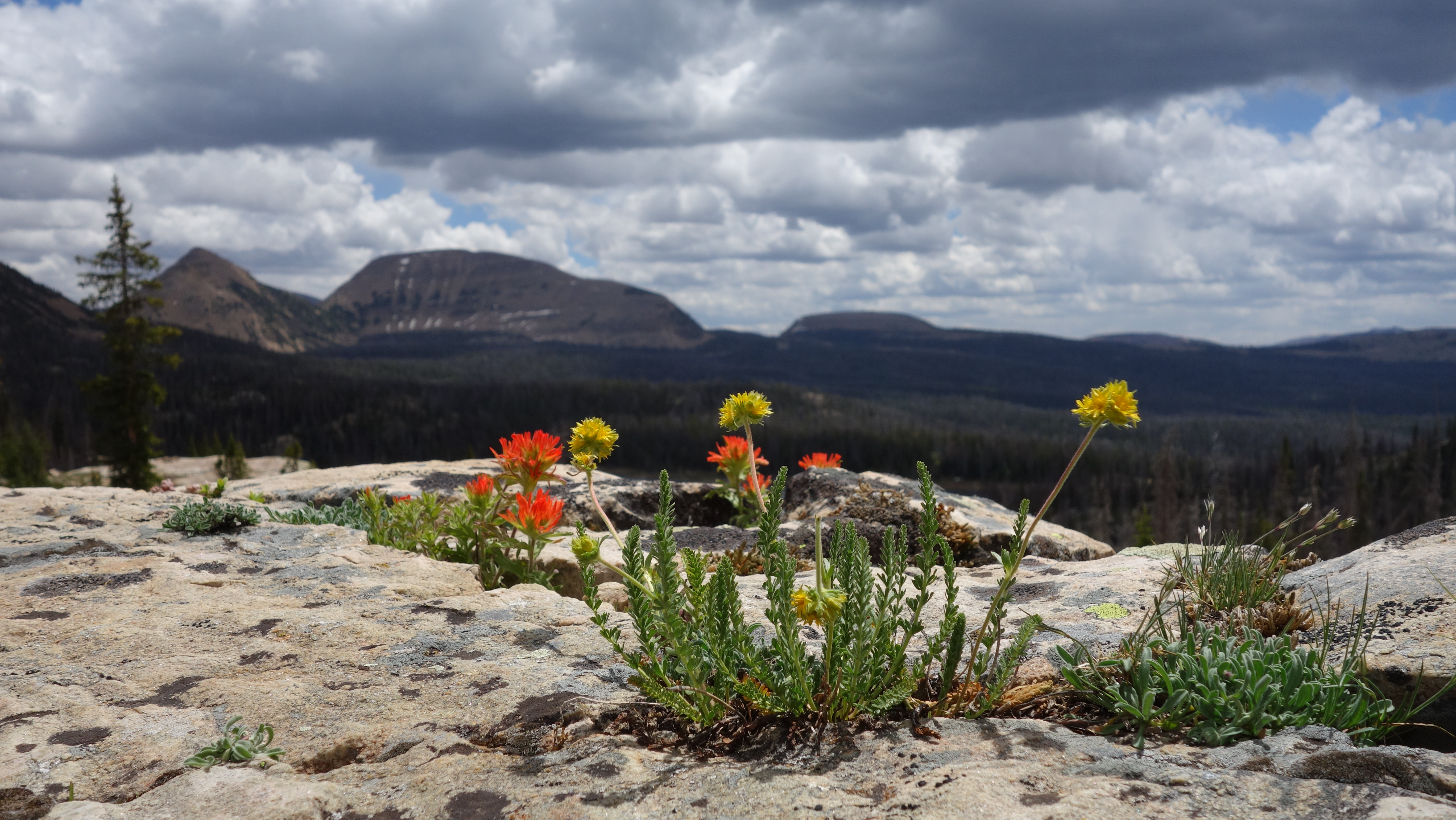 My hiking partner Kristen Powell has been a part of my travels for the last three trips, both of us inspired by the book and movie "Wild." Getting into my car to drive from Chicago to Utah, and camping along the way was a part of this planned excursion. The frigid temperatures we encountered in Vail were not planned nor were the rocky and unwelcoming conditions of camping in Moab, the latter became a deserted attempt, pushing us late at night to drive onward to our final destination, Park City. Resting up, we readied ourselves for exploration in the High Uintas, complete with the promise of bears and rock climbing on a "5-7" cliff overlooking a pristine lake. I was pushing my own personal envelope and feeling, quite honestly, a bit of a nervous wreck.
Talking and then meeting with Deutchlander at White Pine Touring the day before our adventure was to begin to get fitted for our harnesses and shoes, specific to the sport of rock climbing, my nerves were calmed with her relaxed voice and down to earth demeanor. I felt instantly connected as we talked about Park City's previous night's soirée, Savor the Summit. Deutchlander and her photographer, Bekah Stevens, a seasoned skier and camper who dabbles in rock climbing, picked us up the next morning at Park City Lodging's Park Station bright and early on Monday morning. There was a chill to the air that quelled our nervous chatter as Deutchlander educated both Kristen and me about the changing terrain and the geological history, before our savory stop at the Samek Smokehouse to pick up our trail lunch. A short time later, but feeling like we were as far removed from civilization as possible, we arrived at the quiet and seemingly deserted Crystal Lake Trail Head in the Uintas .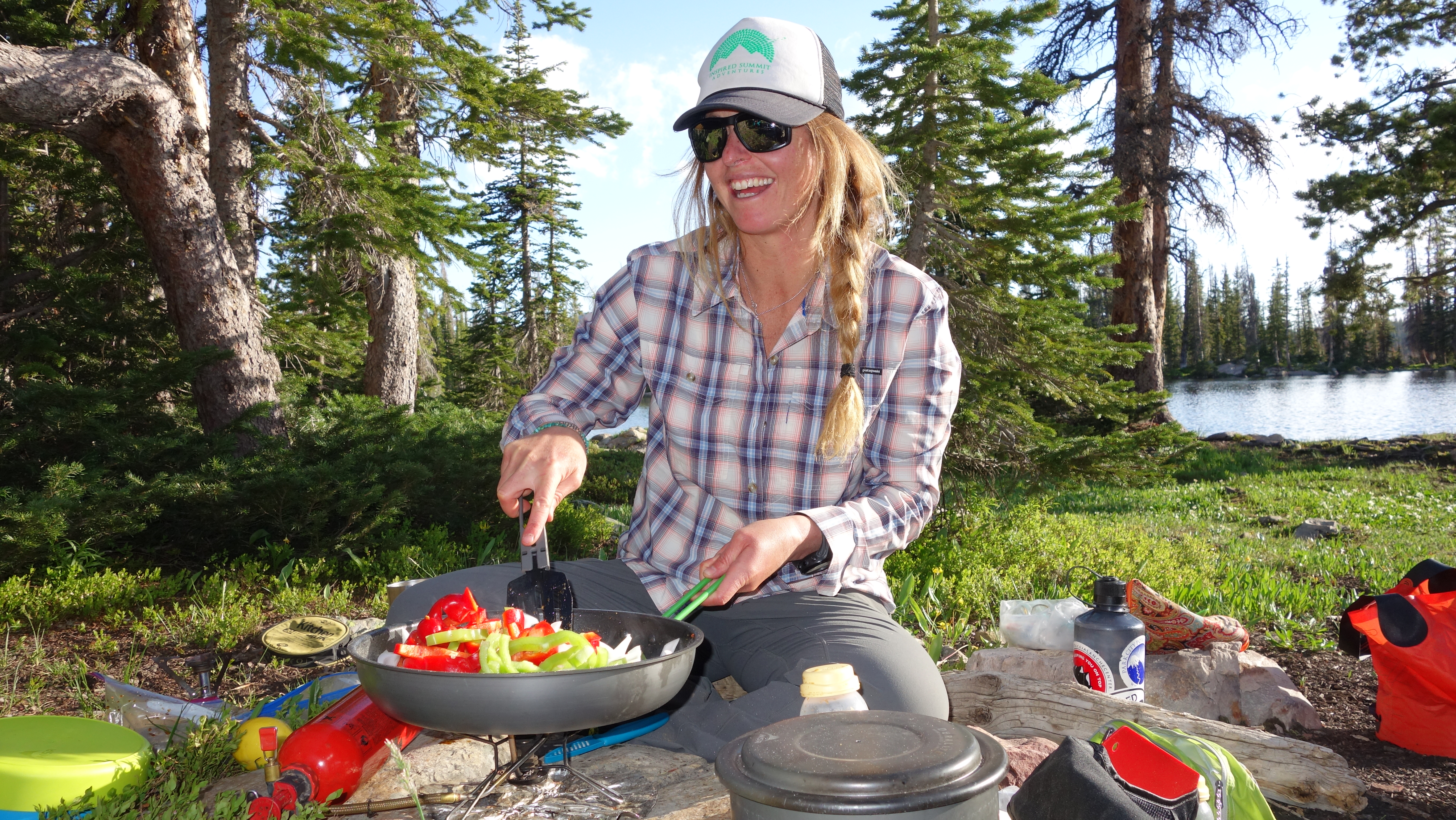 The wintry chill warned me to bundle up as I donned more layers, panicking a bit about how cold it was and wondering if I could stay warm enough during the day let alone at night when the temperatures dropped even further. Perhaps this thought diverted my attention away from the fear of hanging 70 feet above my imminent rocky demise the next day. As quickly as I panicked, these thoughts vanished as Deutchlander lead the way through the rocky trail, heading into the woods a couple of miles to our campsite on Cliff Lake. While Kristen and I considered ourselves seasoned backpackers, we immediately and continually learned that our wealth of knowledge was a few dollars short. Deutchlander expertly and casually added to that bank of information, teaching us more details about "leave no trace" etiquette and showing us how to properly tie our guy lines as a storm loomed off in the distance. Tying a bear bag using a double pulley knot system was also mesmerizing, again, proving that both Kristen and I still had a lot to learn.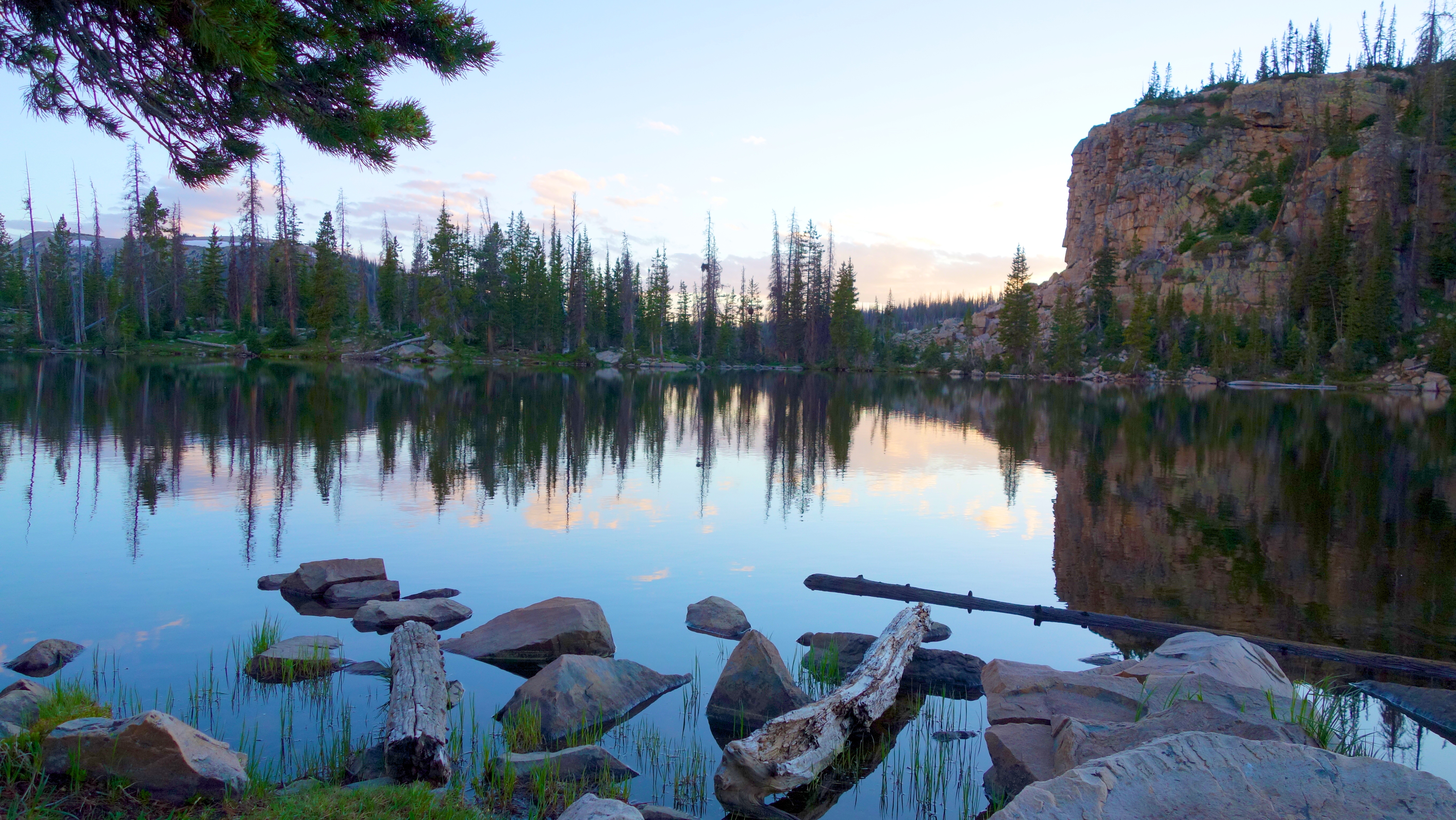 Mother Nature was smiling on us during this entire trip as the skies cleared, but left behind a wicked wind that reminded me of Chicago's Michigan Avenue in February. But again, as Shaun talked about the "witches brew" in the tops of the trees that Native Americans used for medicinal purposes, my mind focused on learning. She also discussed the cyclical devastation of the beetle upon the evergreens, the forest rangers' attempts to help plant new ones, the formation of the mountain with striations of color, and the profound impact this ever-changing mountain has upon us. Cold? What cold?
I began to see this previously perceived ominous mountain range in a more loving light as we completed the 10 mile hike. Perhaps I was terrified of the unknown, its height or even the promise of bears, but now, thanks to Deutchlander's guidance and knowledge, this area became welcoming, even comforting by the end. As Day 1 came to a conclusion, our gourmet dinner of sautéed veggies prepared especially for our dietary and palatal "needs" digested quietly in our bellies. We gazed at the stars, built a fire, and stayed warm as we identified constellations and contemplated life.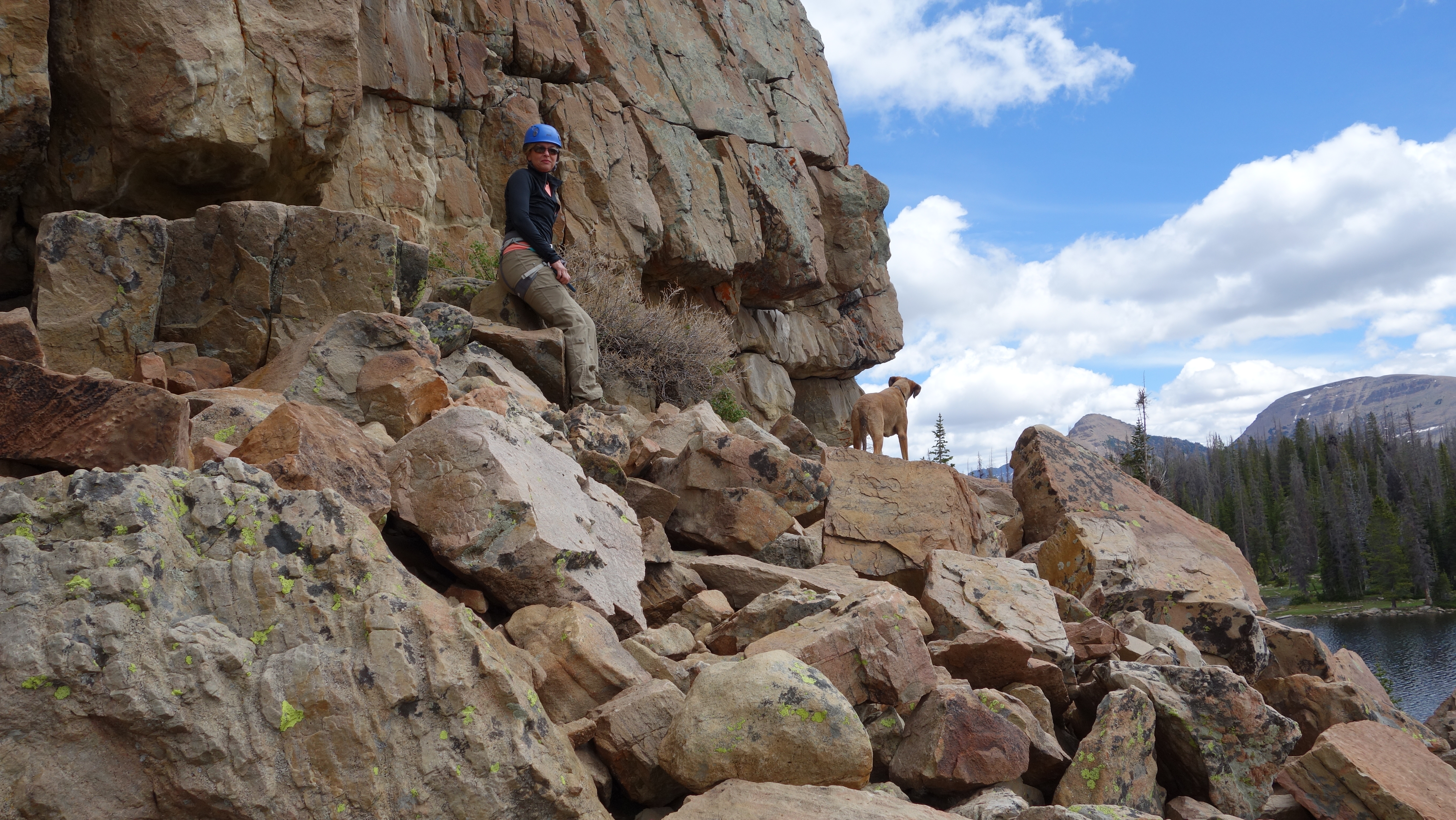 Bed, aka tent with a sleeping bag, beckoned us to call it a night, resting up for the newest challenge— rock climbing a cliff that had been in my periphery the entire day and evening. From sunlit edges to darkened outcroppings lined as the sun set behind its ridges, my goal was to get 2 feet above the bottom. Yes, 2 feet. Tomorrow would be telling if I could reach this personal summit or perhaps an even higher one.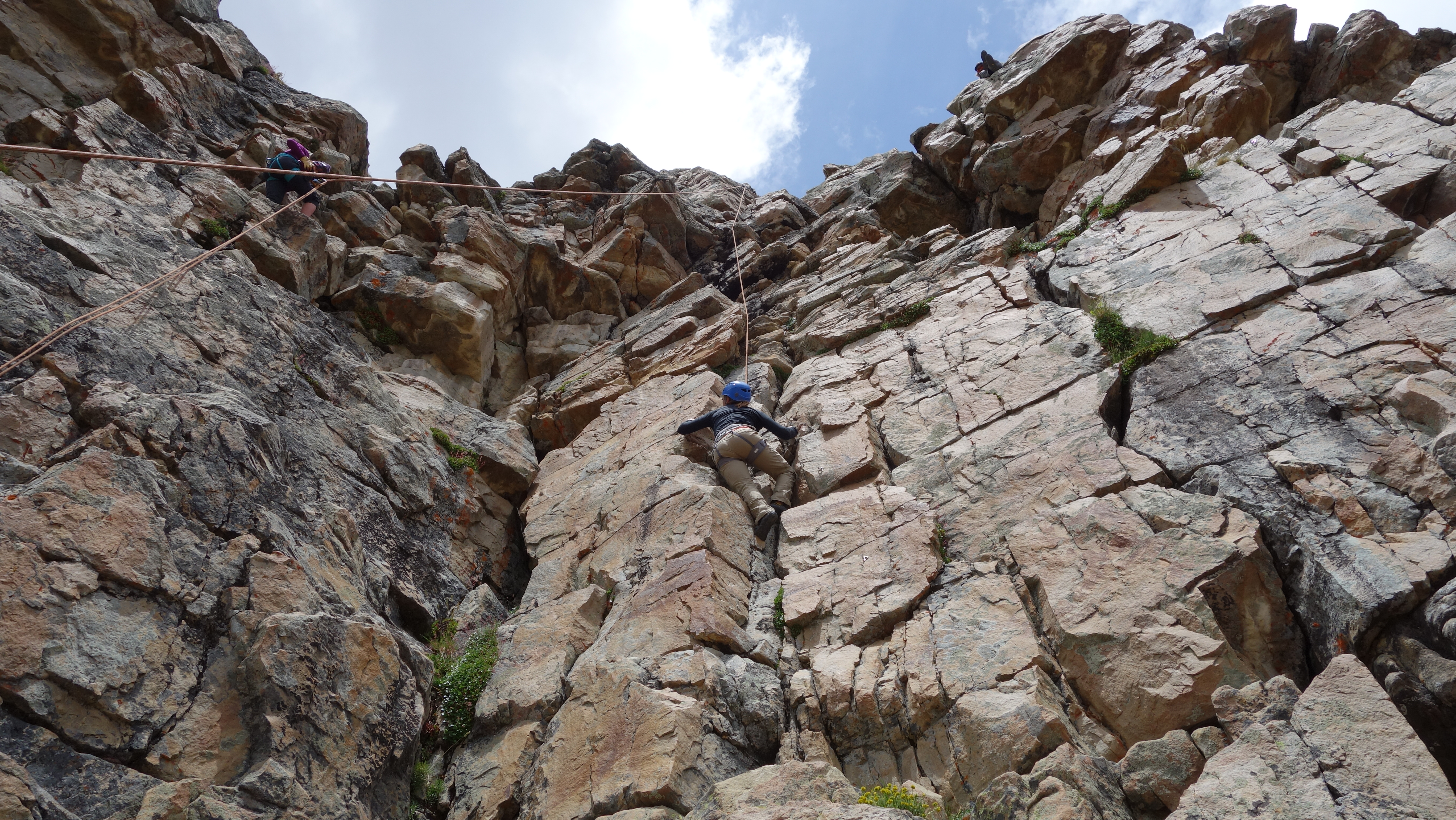 Staying warm beneath my Kelty covers, listening to strange yowling noises in the middle of the night wasn't enough to rouse me completely from my hard-earned slumber. The sun's rays lit my tent and heated the interior, calling me to breakfast. Or perhaps it was the smell of pancakes that gently woke me! Sipping espresso and sitting by the morning campfire, compliments of Deutchlander's hubby Weston who joined us that day, we enjoyed a few laughs about snoring, mating calls of opossums, and then dressed for our climb.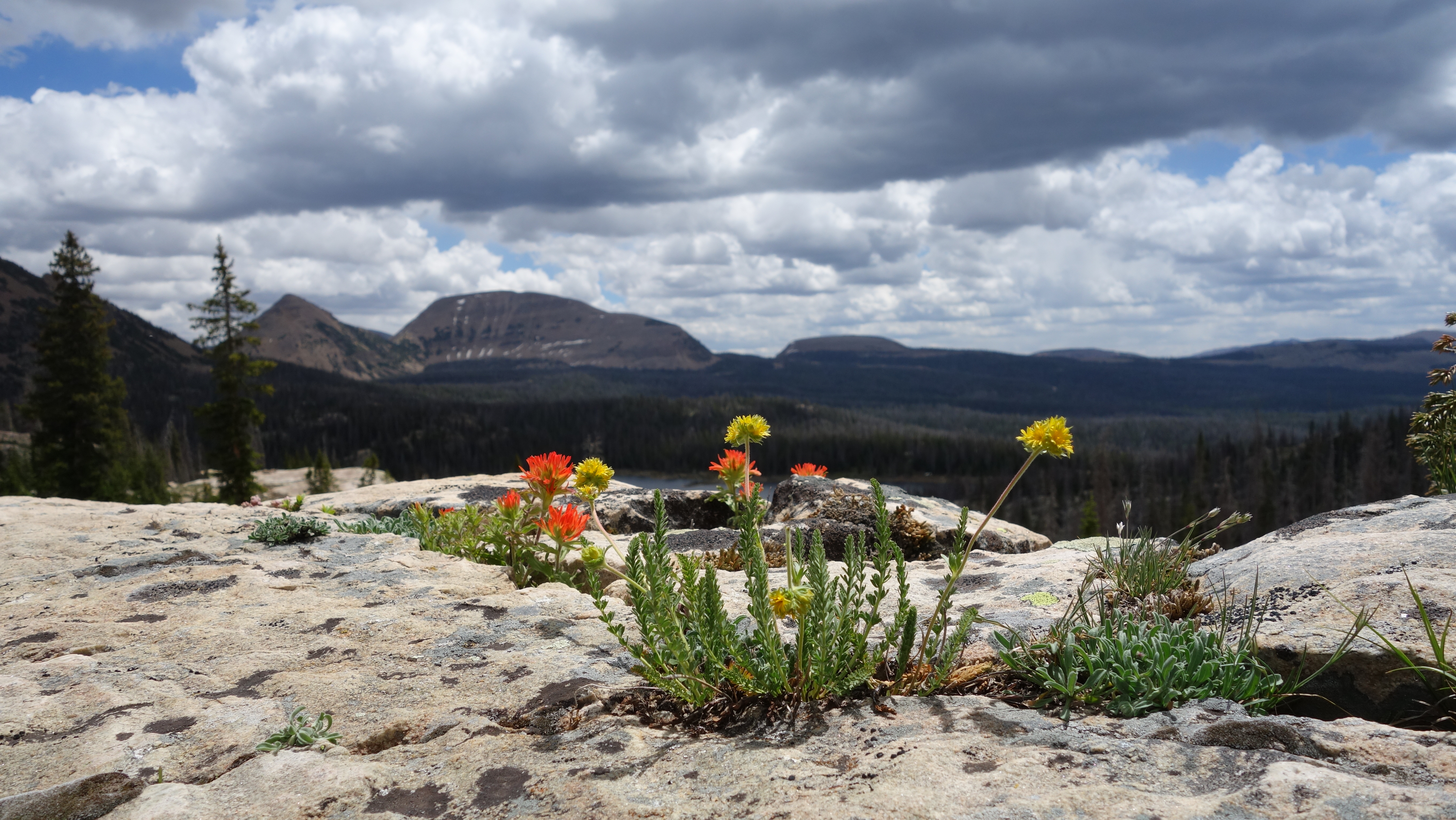 Hiking a short distance to the facial profile of a cliff that I can still recount in my mind, the ropes and carabiners were set as we donned our harnesses and listened intently to Deutchlander's instructions. "Climbing is a practice of redundancy." I felt reassured as I heard her soothing voice explain this practice and teach us how to tie the ropes.
It was my turn to climb. I reached my goal of 2 feet immediately. Feeling empowered, I used my only working knee to hoist myself 3 feet higher. Deutchlander was simply stellar with her encouragement, her reinforcement, and her guidance. Never feeling pressured and always feeling safe, I continued. After each new height, I looked down and felt an overwhelming feeling of accomplishment. I did this! I met and far exceeded my goal. Deutchlander offered me choices of continuing, coming down or even just hanging out, quite literally, while I rested my muscles. I was close to the summit, about 10 feet away, but with shaking arms and shoulders and one knee screaming at me, I decided I had gone far enough. Looking around and taking in the sight, I began to laugh and cry at the same time. It's an emotion I cannot fully explain, but I know I reached new heights, figuratively and literally— I truly did reach my own personal summit.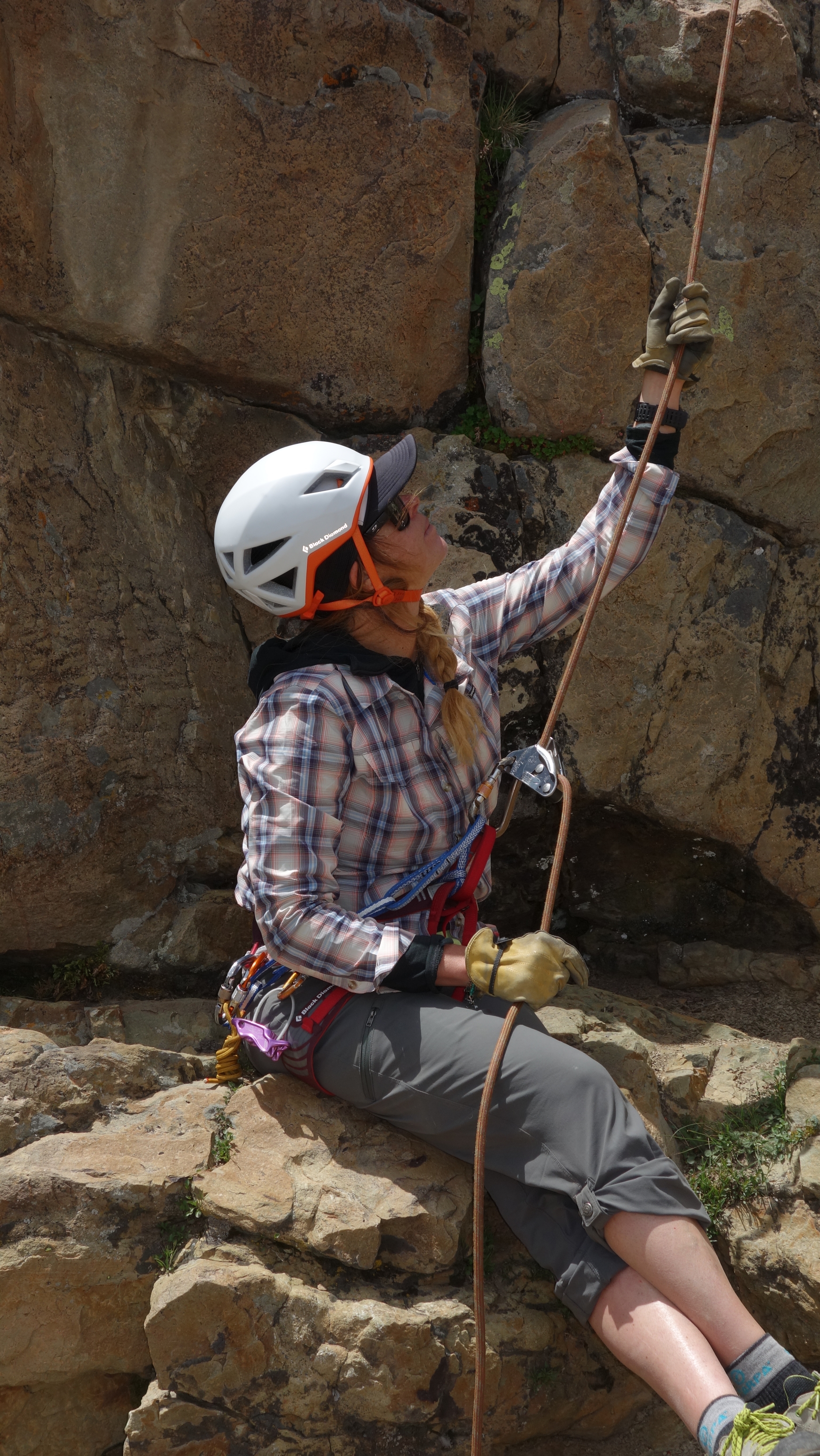 I'm no longer as fearful of heights after this experience and I look at hiking, rocks, and cliffs a little differently now. What I once saw as a crazy and dangerous sport, I now see as a mental and physical exercise in confidence and strength. I see the beauty in not conquering nature, but working with her; connecting with her. It is because of Deutchlander, her knowledge, and her supportive team that I have deepened my understanding of myself and my surroundings—a lesson I could never have learned without her. It brings tears to my eyes as I write this, knowing that I have changed and changed for the better.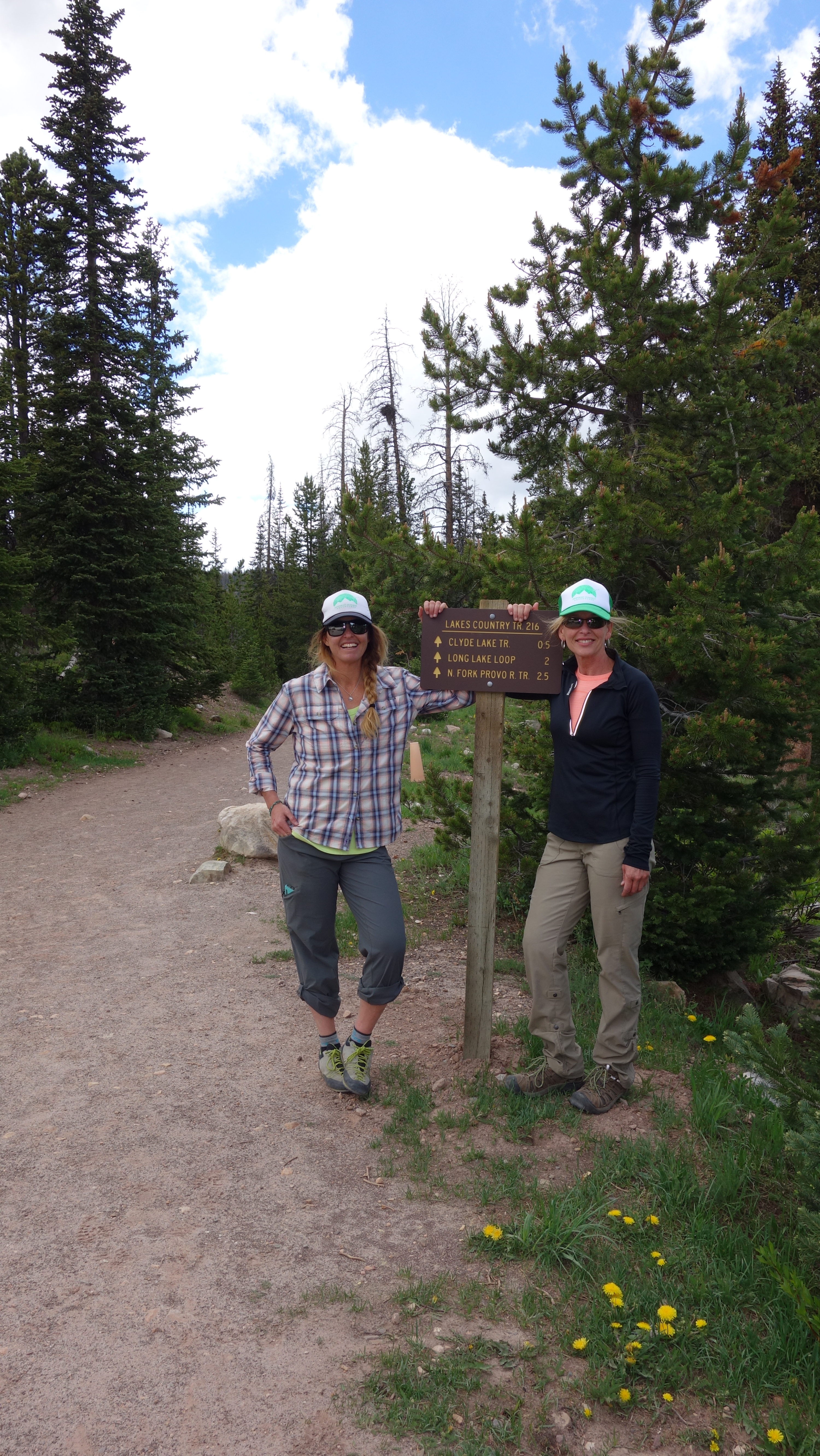 Climb a mountain, ride a horse, white water raft, hike, or create a combination of adventures through Inspired Summit Adventures to have your own unique and perhaps life-changing "mindful mountain moment." My next adventure will be with my adult daughter, connecting us more closely with one another and with nature. What will yours be?