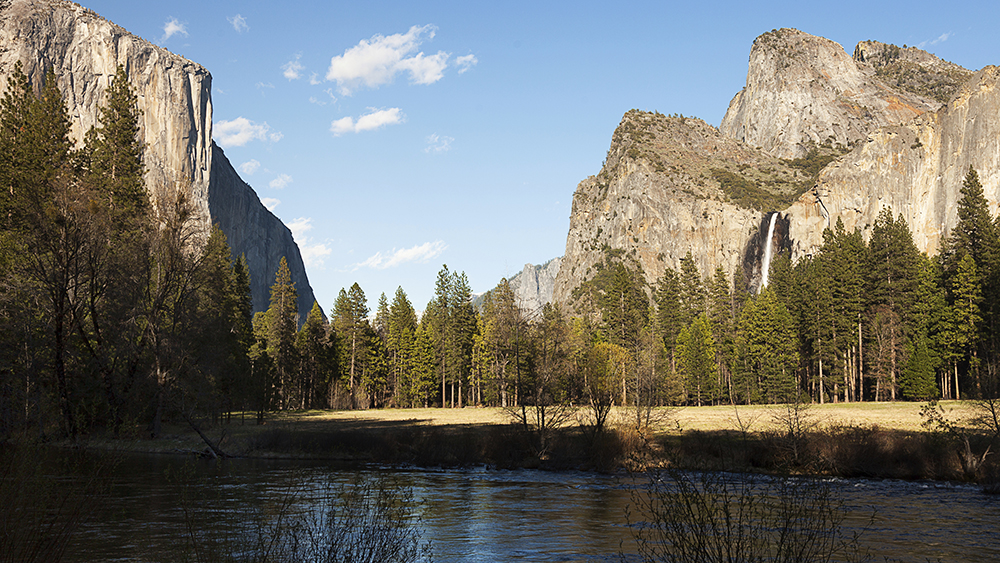 Situated within driving distance of both Los Angeles and San Francisco, Yosemite National Park has inspired superlatives for decades. Early American visitors running the gamut from mid-1800s explorers to naturalist John Muir found plenty to love there.
As home to stunning waterfalls, sheer granite cliffs and abundant meadows tucked within the High Sierra, Yosemite still holds surprises aplenty. Here are seven little-known facts about the national park.
Someone climbed Half Dome without a rope: In 2008, 23-year-old Alex Honnold completed a free climb of this Yosemite granite wall, measuring 2,130 ft. It took him less than three hours, National Geographic reports. When Half Dome was first scaled in 1957, it took climbers (with ropes) five days.
Yosemite has been inhabited for thousands of years: Evidence shows that humans may have visited the Yosemite area as early as 10,000 years ago. As one culture replaced another, Native Americans settled in Yosemite nearly 4,000 years ago, according to the National Park Service. Today, less than 1,000 descendants of Yosemite's Native American inhabitants live in the area.
President Lincoln made it possible: Mid-1800s exploitation of the land brought calls for conservation, the National Park Service recounts. Abraham Lincoln signed an 1864 bill protecting the Yosemite Valley and Mariposa Grove lands; that cleared the way for national park status in 1890.
Ribbon Falls is much higher than Niagara Falls: The Yosemite waterfall descends 1,612 feet, the U.S. Geological Survey states. It's nearly ten times the height of 167-foot Niagara Falls. But it's half the height of Angel Falls in Venezuela, the world's tallest at 3,212 feet.
The Hetch Hetchy Valley still raises controversy: Starting around the turn of the 20th Century, San Francisco began efforts to dam the Tuolumne River to increase the city's water supply. In 1923, the O'Shaughnessy Dam was built, flooding the Hetch Hetchy valley floor and creating a reservoir of the same name. Today, Restore Hetch Hetchy is leading efforts to dismantle the reservoir, which is still part of Yosemite National Park.
Yosemite is home to two glaciers: At 12,000 feet above sea level you'll find the Lyell and Maclure Glaciers, says Geology.com. Yet few Yosemite visitors ever get to see them because long, strenuous hikes are required to reach them.
Yosemite's bighorn sheep aren't just gorgeous—they're endangered: The Sierra Nevada bighorn sheep, one of the parks most iconic residents, is on the Federal Endangered Species list — there are about 500 bighorns left in the wild. Other Yosemite animals under threat include the California Wolverine and the California red-legged frog.
—Lou Carlozo, Brand Publishing Writer
David Glick

Chip Hayes

Customer Service

John L. Buettner