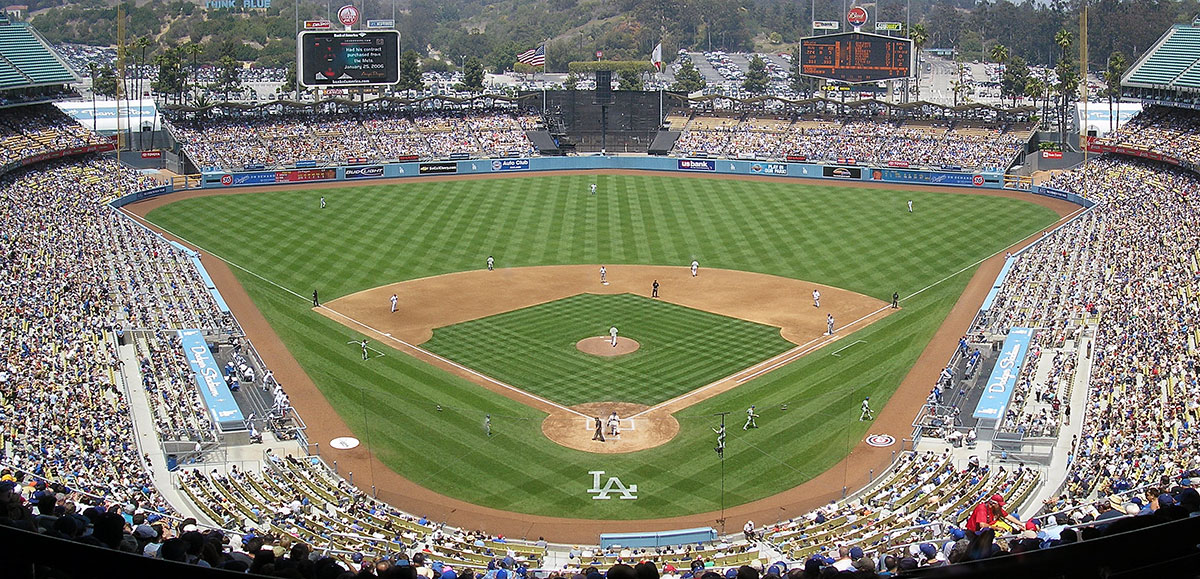 Dodger Stadium just over 52 years old, but its Southern California charm is as fresh as ever. It also has a unique architectural distinction: It's the only stadium in Major League Baseball literally carved into a hillside.
The Dodgers now call the stadium home, but for a time in the '60s it hosted the Los Angeles Angels; Elton John first played there in the 1970s; and everyone from Pope John Paul II to U2 has appeared there. Here are seven facts about the place that helped lure the Dodgers out of Brooklyn.
Dodger Stadium is the third oldest park in baseball. , Built in 1962, Dodger Stadium may not seem that old. But only Fenway Park (1912) and Wrigley Field (1914) predate it. Many stadiums built before and after have succumbed to the wrecking ball, including Memorial Stadium (Baltimore) and Veterans Stadium (Philadelphia).
Eight million cubic yards of earth were moved to build it. , Dodger Stadium was built into rough terrain above Los Angeles, so construction crews needed to flatten hills and fill in gullies. The land was once slated for a public housing project.
Dodger Stadium is the king of capacity. , Dodger Stadium has 56,000 seats, making it the largest stadium in baseball, just ahead of Coors Field (Denver) and Turner Field (Atlanta), both of which seat more than 50,000 fans.
It hosted a perfect game vs. a one-hitter. , On Sept. 9, 1965, Dodgers pitcher and future hall-of-famer Sandy Koufax pitched a perfect game here. Opposing Cubs pitcher Bob Hundley gave up just one hit and an unearned run. Both pitchers hurled no hitters through six innings.
The Beatles played their next-to-last concert here. , The Beatles Bible website reports that the 30-minute set featured 11 songs and was played on Aug. 28, 1966, before a crowd of 46,000. The top ticket price? $6.
Fleetwood Mac played there, too — in front of no fans. , To create the title song from the 1979 album "Tusk," Fleetwood Mac recorded with the University of Southern California Trojan Marching Band in the empty stadium and filmed their video for the song there as well. Bassist John McVie, who was out of the country at the time, was represented in the video by a cardboard cutout.
It has its own zip code. , In 2009, the zip code 90090 was designated for Dodger Stadium by the U.S. Postal Service. It's known affectionately as "Dodgertown."
—Lou Carlozo , Brand Publishing Writer